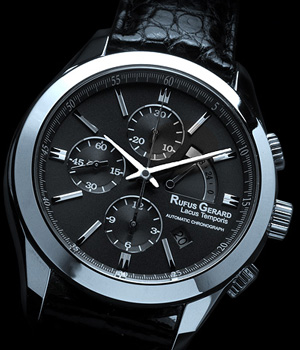 Rufus Gerard is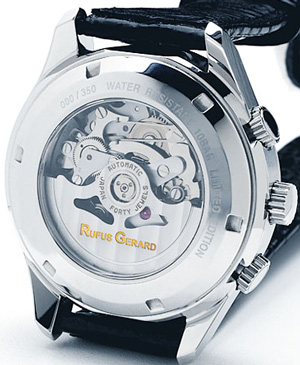 Canadian watch company, which develops and production of mechanical watches made by hands. Company Rufus Gerard is known among collectors and fans of wristwatches. Produced with limited series original models of this company get honorable place among collections of collectors. Watches Rufus Gerard are not widely known, though it doesn't mean that they yield with its quality to models of another brands. This original mechanical watch assemble by high qualified experienced watchmakers, working in watch branch for many years.
In contrast from another watch companies, which develop and produce in a year several thousands pieces of wristwatches, Rufus Gerard produces from 50 to 500 models, every of them produces in limited series and has its own serial number. There is a question – why this brand produces such small number wristwatches? It is not a secret that for production of every model needs time. In contrast from watches of mass production, watches Rufus Gerard assembled by hands, that requires a lot of time, great attention and patience. Any mistake, even the smallest in any stage, can left backfire, and he have to assemble from the beginning.
Watches Rufus Gerard are equipped with complicated high accurate automatic movements, which produce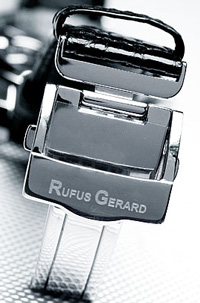 company Seiko Instruments (SII), which is absolute and undisputed leader in production of luxury mechanical watches in Japan. As say watchmakers all over the world, this watch with its perfect quality doesn't yield to world brands. Seiko Instruments produce watches Credor and Grand Seiko, are one of the expensive watches in Japan. It should be noted, that many of these models are not available outside Japan. Before co-operation with company Rufus Gerard movements and some details, produced by Seiko Instruments, were available only for watch company Seiko Group. Brand Rufus Gerard is the only one brand outside Japan, which SII considers to be worthy of co-operation.
Company Rufus Gerard suggests its clients high quality production, made in luxury style with elements of Canadian design. Watches Rufus Gerard will perfectly look on the wrist like on ceremonies as well as in campaign; it calculated for all occasions of life.
Nowadays, company presents its model Lacus Temporis – chronograph with 7 hands and round case from polished stainless steel. Black dial of model is equipped with counters at the positions of 6, 9 and 12 hours, and date aperture is situated at hour mark 4. Dial is protected with reflecting sapphire crystal. Model is complimented with black leather strap with folding clasp with logo of the brand Rufus Gerard. Water resistance is up to 10 ATM. Watch is equipped with mechanical movement with automatic winding, collected on 40 precious stones. Watches Lacus Temporis produced in limited series of 350 pieces.
Exclusive watches of Rufus Gerard brand will become inseparable part of collection of fan wristwatches, and also collectors.