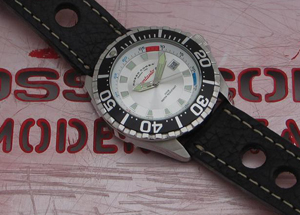 The Italian company Rosso Corsa specializes on the production and selling of watches, clothes and different accessories. The main difference of this manufacture is that all production is devoted to the auto's theme. Every released product is the result of the careful historical research, because every detail, whether it's luxury watches or clothes, thoroughly thought out and brought to mind, so that's why all products of Rosso Corsa is very easy to use and incredibly functional.
The Italian company Rosso Corsa is owned by Mr. Lino Franceschini and Mr. Paolo Franceschini. Lino Franceschini by his profession is a simple seller, but from his childhood he loved sport's cars, fast driving and the noise of the sport engines. In the adulthood, he participated in races Simca Rally 2, Alfa Romeo Giulia GTA, Alfa Romeo Giulietta Sprint and Sprint Veloce, Ford GT40. Paolo Franceschini is an expert in the field of communications and web strategy, he as Leno from his childhood has a passion for the motor racing.
The first collection of the exclusive men watch the Italian company Rosso Corsa launched in 2000, it was made of the high quality material, and had the unique design, where every detail was brought to perfection. All watches of Rosso Corsa devoted to the longtime hobby of the company's owners - race cars, and these measures of the time are made exclusively for professional racers. Many of the men wrist watches from the collection of the young Italian company Rosso Corsa are the regulators. These Italian watches are made in such a way that all necessary information could be read from the dial quickly and easily, even if the owner of the watch is driving the fast car.


Many people know that the passion for the cars could be strong as the passion for the wrist watches, but some of them do not even think about the fact that these two "machines" are very similar to each other. The most important parts of the car, we can not see, are under the cowl. For example, suspensions, engine, carburetor, and etc. All these details have to be very strong, they should have no problem to withstand enormous during driving the car to avoid breakage. Same in the watches, the precision depends on the strength and the quality of every small detail of the wrist watch movements, which is also impossible to see without looking into the case. In the car, the main things were the body and the serviceable engine, and in the wrist watches – the dial and the precise movement. On the similarity of these two powerful vehicles (cars and watches) can speak for very long. Of course, cars and watches are very similar, but each of these masterpieces were made by the hands of the skilled masters and engineers, each has its own individual style and character.