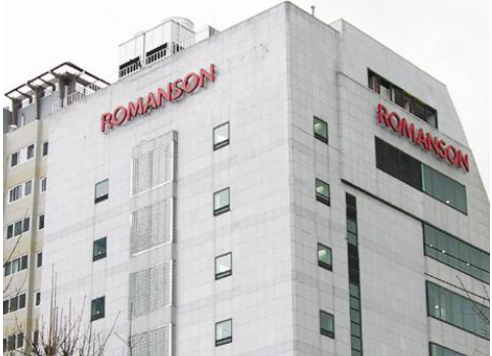 The Korean watch

brand Romanson was established in 1988. In the beginning the company exported its production to the Middle East market. But gradually, introducing the revolutionary new technologies in the production and developing the unique design of the models, the company got the leading position in the global watch industry, and now it has the multibranch distribution network which is presented in more than 70 countries. Annual income reaches $ 25 million.
The innovative developments pushed the company to the forefront of the watchmaking industry. For the first time were introduced the watches with the dials which are protected by the cutting glass that has been carved in diamond shape. The 3.89 mm ultra-slim watches still don't have any analogues. The company also created the Rose Gold dry plating technique.
Since 2003, the Romanson company has presented its products at the Swiss Basel World exhibition. The same year it became the brand of the year.
Basically the company produces its collections in Switzerland. The first "Swiss" line became the collection Eleve. Then were launched the collections of the premium watches Premier and Trofish, with its "chess" model of the women watches, which caused a wave of the real interest to the models. Quite interesting are the lines of the collections Classic, Classic Lady, Active, Trendy and Ceramic.
Deserved fame and the highest quality allowed the company to create the watch models designed for the presidents, who participated in the summit of North and South Korea.


In the design of the numerous collections among with the luxury models embodied the tendencies of the modern art and elegant classic.
The watch models of the company are designed with the high quality Swiss movements. In the case's and bracelet's creation are used stainless steel and ceramic. The dials are equipped with a sapphire crystal and time's indicators of time. The straps are made of leather.
The watch models price is in the medium range. The refined and perfect design of the models and the authentic Swiss quality can be the great excuse to buy the watches of the Romanson company and get the irreproachable appearance.