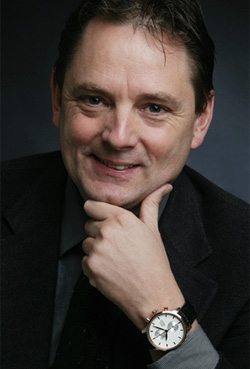 Roland Oostwegel company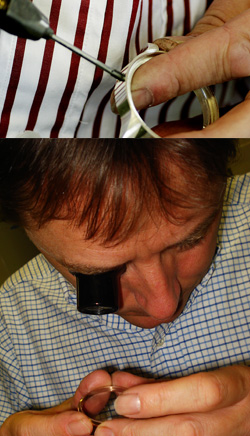 started its work more than 60 years ago in 1952. at this time Roland's father Louis Oostwegel decided to start jewellery production. He was a talented teacher's student, who was one of the leading jewellers of this time in Bolman Institute, founded by doctor Kniff in Hilversum, Netherlands.
Louis's son Roland decided to follow the trade of one's father. He moved to Germany, where he was studying at Hanau Academy. In the end of 80-s Oostwegel company was headed by Roland, who continued his study at the sphere of design in one and the same time. However watches became more attractive for Roland than jewelry in a while. He continued his study in the area of watches combining it with work at a famous Glashütte Original company.
In 1994 Roland Oostwegel company's name was mentioned in Guinness Book of Records, thanks to small diamond earnings produced by Roland Oostwegel.
At the present time Roland is not just a talented designer, he is also one of the most experienced watchmakers who's company works at watch exclusive design processing at own manufacture. They also provide any kind of repair for collection and exclussive watch.
Original chronographs, produced by Roland Oostwegel are made of gold of different colors, stainless steel, platinum, protected by sapphire crystal of 1,2mm and decorated with leather strap with gold, silver or steel buckles (it depends on the kind of metal used for case making).Oostwegel watches are supplied with ETA Valjoux 7750 movement and shock-resistant system. All the models are issued in limited edition in 50-100 items.
For a short-time period Roland Oostwegel company was succeeded in becoming popular and famous thanks to original clock of a high-quality priduction.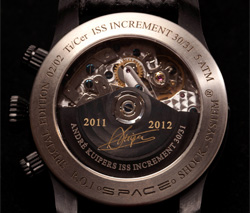 A reticently released novelty R.O.1 SPACE immediately attracted everybody's attention. Also, it is very interesting how this watch was made. The history is connected Holland watchmaker Roland Oostwegel and Holland astronaut Andre Kuipers of European Space Agency meeting in 2010. it was the time when the astronaut told that during the flight he has a feeling of loosing time. Fo Roland it became a reason for R.O.1 SPACE Special Edition watch making which was used to be a special model made for astronauts to be used in their space trips.
There is also a so-called "civil" model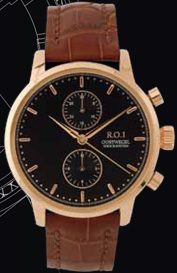 named R.O.1 SPACE Limited Edition which was processed by Roland for a long time in order to make really exclusive watch in combination with incomparable design.
"During my study and practice I noticed that sometimes some problems can occur in mechanic watch making. Finally I turned out well to create a movement supplied with shock-resistant system, protecting watch from outward blow" - says Roland.
The results were amazing: a high quality and perfect design astonished everybody.
At first Roland decided to make maximally light case in order to provide convenient use. That is why he decided to use black carbon fiber, because titan, ceramics and steel do not provide desirable light weight. The second desirable thing was - convenient time detecting. That is why the watchmaker chose white Arabian figures, placed in a black dial. Luminously coated hands and figures can help to know the time even in a full darkness.
The dial is supplied with three central hands (a small second hand at the position of "9 o'clock") so well the passed time of a cosmic mission is shown in weeks at a small aperture at the position of "3 o'clock". Counters of chronograph are placed at the positions of "6 o'clock" and "12 o'clock". In comparison with "cosmic" watch R.O.1 SPACE Special Edition, "civil" watch is supplied with an ordinary aperture of date and week days. This version can be made of gold, ceramics, titan of stainless steel according to an order of a potential owner. Watch are supplied with a Swiss movement ÅÒÀ Valjoux 7750 and automatic rewind.
Anyway the present or future owners of Roland Oostwegel watch can be secure at their choice.