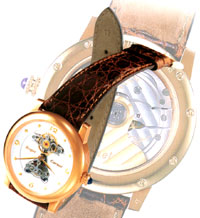 The history of horology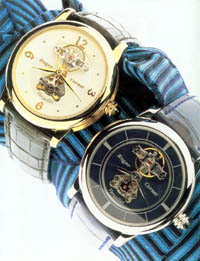 is full with names of talented masters-watchmakers, played necessary role in making wall, floor, wrist watches. Such masters are known to the world firstly with their masterpieces, characterize with perfect design and accurate movements, provide accuracy and durability. One of such masters is Roger Cornet – the inventor, watchmaker, making development of original table and wrist watches for a long time. His perfect products shocked everyone with its appearance, thanks to which Roger was awarded with different awards.
His career he began in 1929, chosen one of important areas of medicine – creation of radiological devices and accurate movements. And in 1946 after Second World War, Roger founded his own company called Le Prototype Mécanique, which co-operated with leading French companies, which produced planes, such as Dassault and Matra. Company helped to create many famous and important manufactures. It contributed in development of cosmonautic, with the help of micro-electromechanical and space development provided in creation of company Aerospatiale, being French company, which produces aircraft (planes, satellites, rockets), and also in creation of such leading laboratories as ONERA, CNRS. Company Le Prototype Mécanique produced calculators for space rockets Diamant, black boxes for different planes, etc.
In 1987 Roger Cornet decided to leave the company Le Prototype Mécanique and to do business which will be more closer to his heart. The love to automobile technique led him to collecting the first car. Roger became also attracted by watches. Amazed by masterpieces, called Berthoud, Janivier and Lepine, master decided to create his models. And in 1993 Roger produced two masterpieces which amazed many experienced watchmakers. Inspired with success of his first models, which became famous for short time, Roger together with son Bernard continued the business.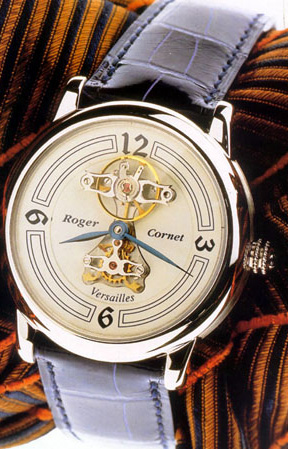 Unique small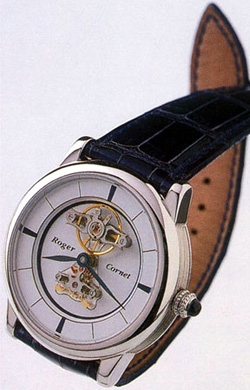 masterpieces Roger presented in another design: table and floor clocks were fixed in a small tables, clocks situate in the central part of tables. Perfect design solution of Roger didn't stop. Later, master developed wristwatches, which don't have analogs. In 1997, watchmaker at age 88, created first watches with opened movement with balance descent on the dial. Model with gold case was called Versailles, equipped with mechanical movement with auto winding. Movement, consisting from platinum micro rotor, collected on 21 stones, vph – 21600, power reserve is 40 hours. Watches were produced in limited series of 25 pieces.
For his watches, master chooses unique movement, the history of creation is connected with the name of Francois-Paul Journe) – great specialist in producing watches, which took the conception of watch creation Roger Cornet to life of his workshop, keeping French traditions.
In 1998 Roger produced the second exclusive model Trianon, which was produced in manufacture of Swiss watch brand Frederic Piguet. Model Trianon with round case, made from 18 karat gold of different shadows. On the dials marked hour markers 12, 3, 6 and 9 Arabic numerals, in the central part, near two hands there are brand logo. On the dial is situated opened movement with balance wheel. Dial is protected with sapphire crystal. Model is complemented with leather strap with clasp from 18 karat gold. Water resistance is up to 5 ATM. Watches are equipped with movement Frederic Piguet with auto winding. Movement, consisted from golden rotor, two barrels and balance wheel on the dial, collected on 29 stones. Vph is 21600, power reserve is 72 hours. Model is produced in limited series of 900 pieces.
Exclusive watches Roger Cornet will shine among another models of collector of wristwatches.