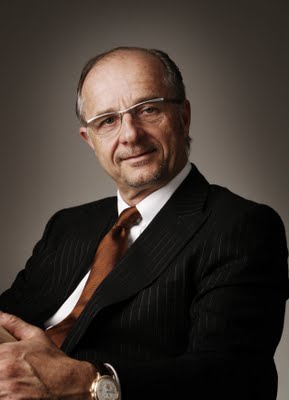 The Swiss company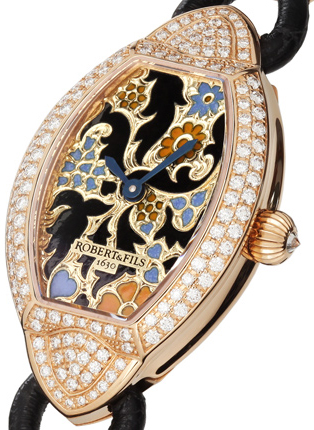 Robert & Fils 1630 is one of the oldest watch companies with the watchmaking tradition over nearly 400 years. The first master of the family, Abram Robert was one of the first horologist in Switzerland. In 1630he was appointed by the municipal authorities in Le Locle to look after the town clock.
A century later, in 1725, Josué Robert became the main watchmaker of the Prussian King Friedrich Wilhelm I. During four centuries watchmaker Robert & Fils 1630 has developed more than a hundred of mechanical movements which were used in the watch industry.
At the beginning of the XXI century the descendant of this remarkable family - Gilles Robert revived the unique watch traditions of his ancestors. He began creating the exclusive wrist watches in the classic contemporary style. Each watch of the company is made using "Robert" calibres entirely restored by hand. He used the family know-how, all the variety techniques of enameling and others.
The company uses the difficult technique of enameling "Champlevé". The dial of the luxury model Marquise Liberty was made in this technique. "Champlevé" is an enamelling technique when troughs or cells are carved or cast into the surface of a metal object, and filled with enamel. "Champlevé" has great art possibilities: from the creation of the elegant colored engravings till the carving of the amazing images, in which metal alternates by enamel planes.
"Champlevé" involves a combination of the different techniques. For example, the image is made in such way that the colored enamel covers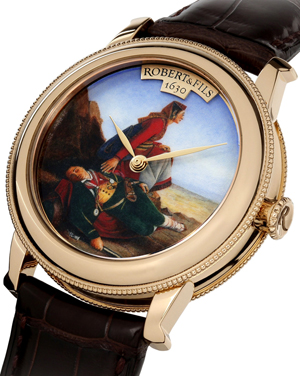 the entire surface, and only the metal contour lines stay uncolored, or quite opposite – only the engraved lines are enamelled with black enamel.
The perfect precision of the Marquise Liberty watches is provided by the rare historical caliber "Robert", which was released at the factory in Fontainemelon in 1960-1970. The unique movement was demonstrated, decorated and tested in 2010. The hand-wound movement works on 17 precious stones and makes 21 600 vph. The caliber is decorated by hand. The case and nubs are made of 18K pink gold and encrusted with diamonds. The dial has the sapphire crystal treatment with the anti-reflective coating. The hands are made of blue-steel. The crown of the original form is also made of pink gold and decorated with diamonds. The individual number of the model is engraved on the case. The hand-made bracelet is made of alligator in the style "cordonnet". The gold snap is decorated with diamonds and engraved logo. The watches is water-resistant up to 30 meters. The line is produced as the limited-edition of 20 items.
The second watch model "The Brigand's Rest" of the company has the dial featuring the painting of the Italian artist Leopold Robert. In the creating of the model's gold dial was used the technique FEU. The dial of "The Brigand's Rest" is modified by the central hands of hours and minutes. The work of these perfect watches is provided with the help of the "five-step" historic auto-wound movement which was developed in the workshop in Fontainemelon in 1960-1970's. The movement is equipped with linear mass with double rack rail from 22K gold. The graceful and elegant case is also made of 22K gold. The strap is made of brown leather.
If you are a true admirer of the Watchmaking art masterpieces, then, no doubt, be tempted to buy the watches of the company Robert & Fils 1630. Touch the Perfection in the form of the watches.