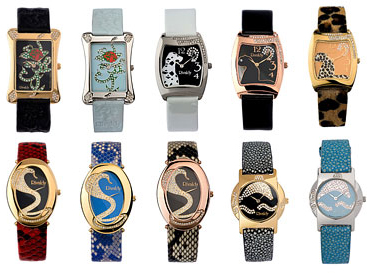 Italy is the home to the most popular and famous fashion houses in turning the history of fashion and played an important role in the fashion world, representing the magnificent collections of clothes, shoes and various accessories. Rivaldy company is no exception, it was also born in this wonderful country. Initially, the brand was known as a manufacturer of clothing and footwear, and in 1960 it began making a collection of watches on a small factory, located near Lake Como on the border with Switzerland. In models Rivaldy played a role, geographically located factory itself, as in Switzerland are the most accurate watch movements and world famous watch companies, and in Italy created a watch, charming her exquisite designs. Hours Rivaldy embodied those qualities that have played an indispensable role in their appearance. Binding characteristics of watches Rivaldy become powerful body, made of polished steel, convex glass, colored guilloche dials, a small but comfortable crowns with the letter «R», as well as fasteners - a butterfly with a company logo.
Execution of the original design turned into a luxury watch Rivaldy accessory of choice for people with fine taste. An interesting design dials with special forms of numbers: for example, in the collections of watches have dials, which are alternating Arabic and Roman numerals,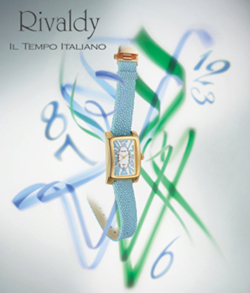 which are made in a special technique and create a feeling raised above the surface of the dial digits.
Collection of watches charm with its diversity. The dials of some models are colored enamel, supplemented with inlaid natural crystals, and others - the marine theme, the third - the Mediterranean natural motifs, which give their owners the memories of sunny summer whatever the weather. Watchbands made of leather of different colors, furs, stylized skins of exotic animals. All this confirms the fact that the company likes to experiment with Rivaldy mix of styles and materials. This is precisely what produces new collections of the brand.
Each model is unique in this brand. For example, a watch model, the case which is decorated with a silhouette of a cobra from the crystals, or a model with a decorated flower crystals on the dial. One can not talk about those models, dials which represent the alternation of Arabic and Roman numerals. Different color shades complement the distinctive motifs, presented at the dials of watches Rivaldy.
Unique not only women's collections, but also for men. Solid steel casing, a strict geometry, smooth leather straps with a logo mark, as well as sports and classic chronograph with rubber or leather straps, guilloche dials, curved glass - all this will not remain unnoticed by men who want to emphasize their character and style.
Temperament, self-restraint, elegance and unique style combined with the latest trends in Italian design in hours Rivaldy.
Buying watches Rivaldy is available through our authorized dealers.