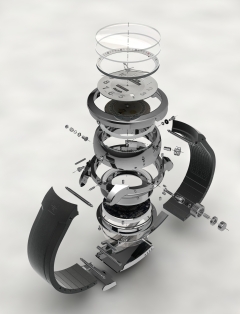 Watch company Société Horlogère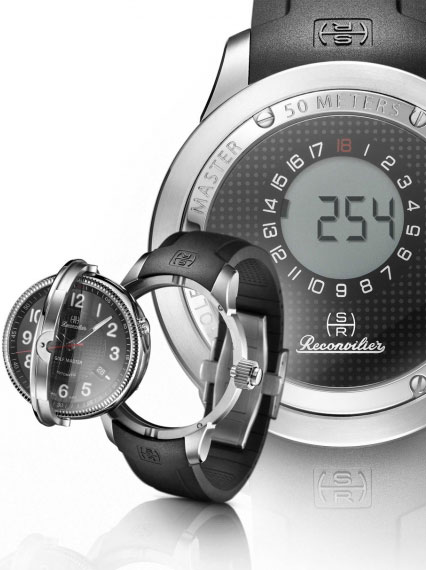 Reconvilier (SHR) was officially registered in 1905 in Swiss Canton of Bern. At that time the company was already famous by its classic watches in the traditional design with a quite simple movement Roskopf (patented in 1860). The purchase of about 1923 "Louis Roskopf & Cie" patents created the base for the fast development and the increase of watch reputation at reasonable price. Very soon the company Reconvilier became famous as a manufacturer of the watches "for people". In 2006 the company Reconvilier re-registered in the Canton of Zug and because of that got the second wind. Nowadays the company payed special attention to the innovation market. That makes the image of the company more attractive.
The new invention of the company is the "Rotar" movement, which combines the classical round design and possibility of displaying of two different functions for golf players: on the one hand, by showing the precise time on the classical style dial (movement – mechanical automatic caliber), and, on the other hand, by letting to measure the distance (in meters and yards) to the green, using GPS technologies (satellite registrations). Besides that, this movement is very reliable and high shock-resistant.
On the base of the very movement the company Reconvilier in 2010 presented the innovative model of men watches Hercules Golf Master with integrated GPS application. That lets a golf-beginner to measure the distance to the green just by having their own chronometer on their wrist. The reversing and movable 44 mm case of the watches Hercules Golf Master fixes to "Rotar" movement letting the dial to rotate through 180 degrees. The front side is a simple dial with three hands, but on the back there is LCD - display with information about a golf field from base station "Caddie".The power of these beautiful and useful watches is supplied by the movement ETA 2892A, COSC-certified. The model is in two versions, made of steel or made of titanium with sapphire crystal treatment. The bracelet is made of rubber, water-resistant up to 50 m.
The model Hercules Golf Master is an example of the constant men classic.
In the same 2010 the company launched the luxury model of the watches Hercules Classic. The power of this vintage "three-handed watches" is supplied by the quartz movement ETA 2824-2. 42 mm case is made of 18K white or pink gold for sure it will make happier its owner. Also there is a version from stainless steel. The dial with a guilloched center has sapphire crystal treatment. Date is located at the index "3". Water-resistant is up to 50 m. The strap is made of leather.
These two beautiful models were presented at BaselWorld 2011 watch exhibition.