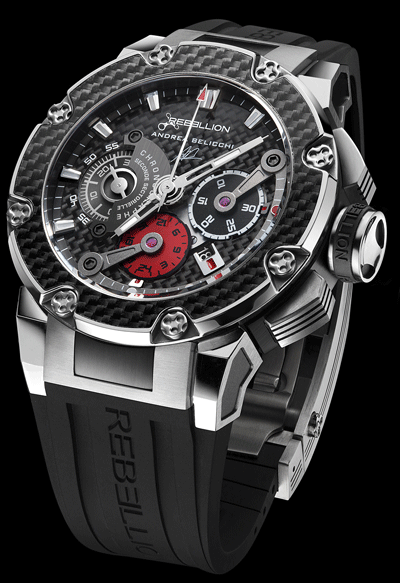 Rebellion brand was established in Switzerland in 2008. Young company recommended itself as a maker of revolutionary watch models. The company was founded by the watchmaker Laurent Besse and the designer Eric Giroud. The name of the brand obliged watches Rebellion to be unique and different from other watches.
Ultrafashionable design in hi-tech style and constant experiments made the company's timepieces popular and recognizable among connoisseurs of watch-art.
Watches Rebellion have differences not only in design features but also in high-quality which corresponds to quality standard of the best Swiss movements.
Rebellion models won the popularity among the young generation which prefers innovations and always wants to get the first place.
In the range of the company there are several collections which are different by their technical characteristics and their design.
Watches of The "Rebellion T-1000" collection have 1000 - power reserve indicator (the biggest power reserve) which was reached because of the help of 6th vertical barrels and energy reserve system. The idea of creation this collection appeared after attendance of the 24-hours races by the founder of Rebellion in 2008. Watches are equipped with titanium and aluminium three-cylinder case, alligator leather strap and sapphire crystal treatment.
The "Rebellion REB-5 Tourbillon" collection includes unique watches which are created in different design versions from black and grey titanium, pink and yellow gold or gold with white or black dia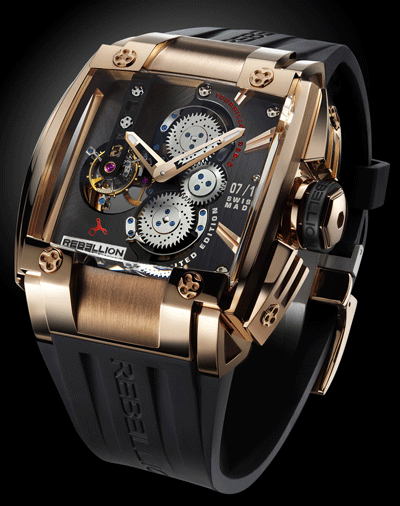 monds. These chronographs are equipped with rubber straps with double folding buckle and anti-reflection coating of sapphire crystal.
Chronographs "Rebellion REB-7" have the similar design. These watches have square cases from steel, titanium and gold, rubber straps and sapphire crystal treatment. The model "REB-7 Regulateur Blue Version» equipped with blue hands and indexes which look not ordinary.
The edition "Rebellion Predator" consists of chronographs with round cases. These line divides into 4 main collections - Predator Chrono 24H, Predator Chrono Sectorial Second, Predator Chrono Mono-Pusher è Predator 3 Hands. First collection among them is produced as a limited-edition. This collection was launched in 2010 special for the pilots Rebellion who participated in the races Le Mans 24 Hours. The collection "Predator Chrono Mono-Pusher" also was inspired by races. The other two collections are similar with two previous . Design elements of these watches are imitation of auto's details (brake disks, pedals etc). These watches are made from steel, ceramics, gold, sapphire crystal and rubber straps.
Watches Rebellion are watches of new generation and they have amazing technical characteristics, unique design and great durability. Such a young company became so worldwide famous and its chronographs are considered as the most interesting, unique and powerful watches of the new generation.
In 2011 Rebellion company presented their new new watch models at Geneve Time Exhibition, which took place in Geneva from 16th till 21st January.