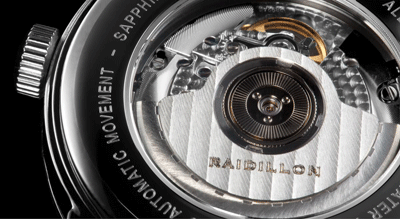 Belgium watch brand Raidillon was established in April of 2001. The idea of watch brand appeared as the result of passion to beautiful watches, cars and races. Wrist Watches and chronographs of Raidillon are supplied with Swiss (ETA , Valjoux Unitas) automatic and hand wound movement (ETA, Valjoux Unitas). Watches are produced in limited-series - 55. The number 55 represents the number of cars (FIA World Cup) participated in Spa- Francorchamps.
In Circuit de Spa-Francorchamps take the place Formula One Belgian Grand Prix and Spa 24 Hours (the endurance race) This race track is considered as one of the most difficult in the world. Spa-Francorchamps resort is very famous among racers and their fans. Watch brand Raidillon became the official partner of Francorchamps race, which hold the 55th races. Every racer of the win team got a wrist watch of this brand as a present. Every model has its own number. There is engraved number on the case. There is no index "13" as there is no number 13th in the races. Instead index "11" it stays index "55" on the all models of the brand.
Collection Raidillon 38 mm Automatic CHRONOGRA PH consists of 9 different wrist watch models which have difference in design and color of case and inscription. Every model is produced in 55 pieces.
42 mm Mechanical MOVENTMENT: there is 3 models of wrist watches having difference in design and color of the case (Grey, Black,White). All models of wrist watches are the part of a limited-edition of just 55 pieces. The movement has hand wound Swiss caliber 6497, water-resistant 5 ATM.
42 mm Automatic MOVENTMENT: there are 14 models of watches with different design of the case. The movement is Automatic Swiss caliber ÅÒÀ 2834, water-resistant up to 5 ATM.
There is a model in this collection with the logo of Belgium team on the yellow dial. The race cars of Belgium national team which was organized in 1955, were yellow. There is only one model with Swiss chronograph (Automatic wound caliber Valjoux 7750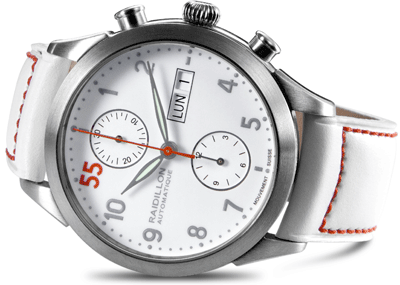 ) in the collection.
43 mm WATERPROOF CHRONOGRAPH. There is 3 counters on the charcoal dial with perpetual calendar, water-resistant 20 bar (200 m) and orange rubber strap, limited edition – 55 items.
Collection 42 mm Automatic JAUGE ( 42 mm Gauge Automatic) – design is stylized as a panel of race car. Movement ÅÒÀ 2892. Functions: 2nd time zone, power reserve indicator, hours, minutes, seconds, black case, at "12" there is a small white sub dial which is the 2nd time zone indicator.
Collection 42 mm Automatic CHRONOGRAPH consists of 19 models with different case's design and functions. Movement of watches is Automatic Swiss caliber Valjoux 7750, water-resistant up to 5 ATM. All models of collection are part of a limited-edition of just 55 pieces.
44 mm Automatic CHRONOGRAPH: there are 5 modifications in the collection with different design of dial, Automatic Swiss Caliber Valijoux 7750 chronograph.
48 mm Automatic CHRONOGRAPH consists of 10 models with different case design, caliber Valijoux 7750, Automatic Swiss chronograph. All models are produced as a limited edition of 55 items. Wrist watches Raidillon are stylish Belgium watches with traditional Swiss wounds at reasonable price. In 2011 watch brand Raidillon will participate in BaselWord exhibition (Basel, Switzerland). Eric van de Poele, the 5-times-winner of Spa-Francorchamps, is going to present watches Raidillon at BaselWorld.