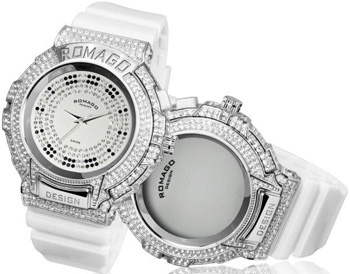 ROMAGO DESIGN is a Swiss watch company, the history of which began in a small workshop in Switzerland. Later, Best Power (HK) Enterprises Ltd., one of the largest watch manufactories in Gong Kong, decided to purchase ROMAGO DESIGN company.
Best Power (HK) Enterprises Ltd. is a developing company, that is fond of experiments. The watchmakers usually combine different elements in a watch design. Having combined the original design and innovative technologies in ROMAGO DESIGN watches, Best Power (HK) Enterprises Ltd. gave this brand a new idea and meaning and changed the style of watches. So, the company with a new logo and fresh pioneering ideas was developing fast, presenting its original products in the watch market. Every watch connoisseur was amazed by the brilliant models by ROMAGO DESIGN brand, their designs as well as the movements were perfect.
The blend of different colours and types of material has turned these models into wonderful accessories. Every watch is distinguished by the refined elegance and incomparable style, thanks to it, ROMAGO DESIGN watches always remain modern models. The brilliant watches by ROMAGO DESIGN are divided into several collections: Romance, Trend, Starlet, Dazzle, Blossom, Bubble, Luxury, Cool, Attraction, Harmony, Numeration, Flow. The exclusiveness of ROMAGO DESIGN watches is proven by the unique mirror dials with light-on function. The dials are lightened up with the help of the exclusive technology, patented by the company under no. Hk1109705. This technology is characterized by the built-in sensor, that changes the mirror surface for the time display by rotating a watch 45° degrees in the direction of a face. This technology is used for the production of sports men's watches and classical women's watches.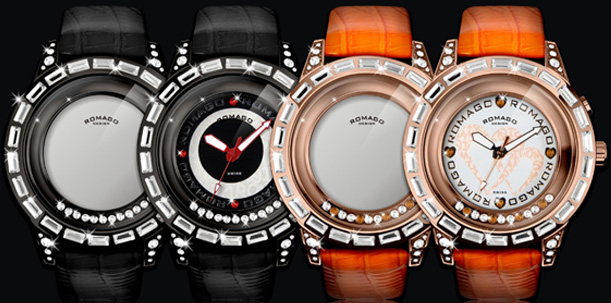 The watch cases are made of stainless steel, the steel bezels are decorated with multi-coloured stones, the bright glare of which is highly appreciated by many people. These stones give the watches an elegant and luxury image, turning a watch into a fashion accessory. The models feature the decorated bezels, sometimes both bezels and dials are decorated, and some models have bezels, dials and nubs, adorned with stones. The company's logo is placed on a dial at different positions or in the center of a dial. The mirror dials feature three hands, some dials are decorated with gems, gathered flashing in the cases, little stars. The watches from Cool series have no decorative gems. These watches feature round dials and square cases. The multi-coloured watches come with silicon straps of different shades, which are in a perfect harmony with colours of the dials.
There are also watches with leather straps or steel bracelets in the company's collections. One cannot withhold admiration from the watches with flowers, fruit, vegetables and zodiacal symbols, drawn on the dials. Thanks to the rich assortment of ROMAGO DESIGN wrist watches one can choose a model to his/her liking.