Pirelli, the elite Italian brand,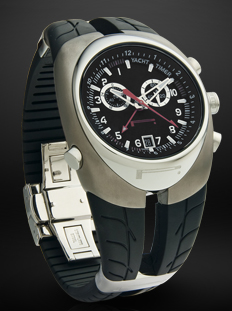 began its business with the the rubber boots production. And now Pirelli is famous all over the world as the manufacturer of first-class tyres, vintage calendars, sports clothes and unique watches. Several years ago, Pirelli entered the world of fashion with the industrial design - the project Pzero. The team of experienced craftsmen didn't follow the seasonal trends and decided to create the unique line of Italian watches by Pirelli. The bright and multifunctional models of this brand are available in different colors and produced from various materials. Every model is made in accordance with the company license, that guarantees the high quality of products. The name of each watch collection contains a part of the name of the tyre for luxury sports cars - P Zero, the tyre was invented in 1987 for Ferrari F40.
In 2002, the Sector Group and Pirelli signed a licensing agreement for the production of watch collection, known as PZero Tempo. Pirelli PZero Tempo collection of Italian wrist watches is distinguished by the stylish sporty design, modern manufacturing techniques, the selection of high quality materials. The models from the first Pirelli Pzero collection have the original forms of the car tyre and meet all the requirements of today's racing drivers. The complete collection of Italian Pirelli watches is presented by fourteen men's and women's wrist watches of different colours and sizes, characterized by various functions.
Pirelli company is widely known among sailors, for whom the brand has released a special Tempo line with the timer, that is used by sportsmen during the regattas. This model comes in three colours: the black dial with the red or black bracelet and the blue dial with the blue bracelet.
The collections, presented by the Italian Pirelli watch brand, have the unique design and include differnt models, that will surely suit the taste of each costumer.