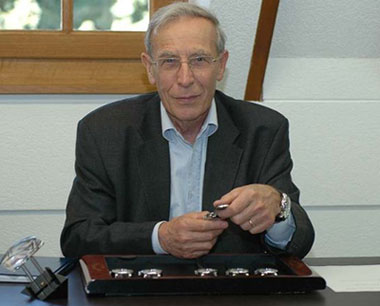 Pierre Michel Golay – is an independent watchmaker ho devoted himself to horology art. He was born in 1935 in a family of watchmakers in Vallee de Joux (Switzerland). His grandfather was well known watchmaker and created high-quality calibers. Pierre's father was a teacher in a horology school in Vallee de Joux and also was busy with exclusive watches and movements making. Pierre's father was also Pierre's teacher who opened him all the secrets of watchmaking. Pierre always tenderly remembers all the lessons of his father who showed him some pictures of a perpetual calendar and offered to make the same. There should be mentioned that Pierre Michel Golay's name is also connected with a huge number of beautiful pieces of art. Marvelous watches created by him were always at some remarkable places in different watch collections. For many years a watchmaker was busy with unique movements creating and complex watches making for some well-known companies as Patek Philippe, Audemars Piguet, Franc Muller, Cvstos. Pierre's companion was Gérald Genta – one of very famous watchmakers, who has left a rich heritage contain some unique models. A fatal meeting for Golay became a visit of general director of Franc Muller, Vartan Sirmakes who once came to Pierre and ordered him to make an original watch. Vartan also mentioned that he wanted to have a special (very complex) watch in his collection, supplied with number of hands and complications. Pierre Michel Golay created a marvelous model of Aeternitas Mega 4 supplied with 18 hands and 5 disks. A watch was supplied with a movement contained 1483 elements, 99 rubys and 36 complications.
In the collections it is possible to find some exclusive models created by Pierre Michel Golay himself. Moreover having created his first collection contained the most complex movement (for Franc Muller) he made an automatic movement – caliber FM 3210. Every Golay made watch model is supplied with extra complex movement contained lots of elements – a result of a very accurate hand craft. Making such a complex watches the master did not have any difficulties, because he (as he always told) was surrounded by lots of watches since early childhood. The most difficult for him was creation of a central table wheel of a tourbillon. But, despite all the difficulties , the master had created a wonderful watch and wonderful movements.
Pierre Michel Golay's watches are made of high-quality materials, are supplied with original movements, created by Gollay himself.
Round cases of chronographs are supplied with unusual hands and small apertures for hands of seconds. Dials are mostly lightly colored and are supplier with Roman numeration and chronograph counters located at the position of "12", "3", "4" and "9 o'clock". Near the hour mark there is a cage of a flying tourbillon. All the models are supplied with unique movements.
Calibre 1700 S6 PR – has a manual rewind movement, two barrels. Diameter of the movement is 31mm, thickness is 5mm. Movement contain 206 components, 25 gems. Pover reserve is 192 hours, frequency rate is 18 000vph.
Calibre 1720 QPRJLM PR - has a manual rewind movement and two barrels. Caliber's diameter is 31mm, thickness is 7mm. Caliber contains 441 component, 47 gems. Power reserve is 192 hours. Frequency rate is 18 000vph.
Calibre 3350 – 3351 RMT - has a complex function of a minute repeater. Caliber's diameter is 36mm, thickness is 6,45mm. Caliber contains 386 component, 32 gems. Power reserve is 60 hours. Frequency rate is 18 000vph.
Models which contain tourbillond are supplied with Calibre 2700 T - a manual rewind movement contains 21 gems and 188 elements. Power reserve is 60 hours, frequency rate is 18 000vph.
Other movement supplied with tourbillon is Calibre 2750 T Myst. PR contain 34 gems and 228 elements. Power reserve is 144 hours. Frequency rate id 18 000 vph.
Pierre-Michel Golay chronographs are supplied with 2780 T Myst. CC2R PR movements which have manual rewind and two barrels with split function of chronograph. Caliber contain 498 components and 48 gems. Another movement supplied with the same functions is Calibre 2710 T QPRJLM which contain 38 gems and 419 elements has 60 hours power reserve.
Pierre Michel Golay watches are too original and contain the best traditions of horology and all the creativity of a watchmaker. Exclusive models of Pierre Michel Golay beautifully supplement collections of many collectors.