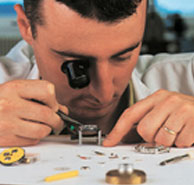 Pierre Lannier watch company was founded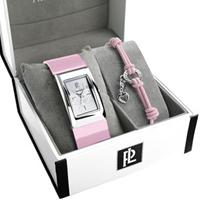 in 1977 in France by Jean-Paul Burgun, who headed it till 2004. The company had its own philosophy of watch production and did not look for the inspiration from the other watch brands. Pierre Lannier company had its own factory in the French city of Saverne, where the watch assembly was done. Ten-year period of hard work and much efforts bore fruit: in 2007, the volume of sales was approximately one million watches a year. All watches by Pierre Lannier are of the high quality and stylish design. Pierre Lannier watches are mostly equipped with Swiss quartz 'Ronda' and French 'France Ebauches' movements.
Pierre Lannier watches are reliable, precise, they have an original design and are sold at the affordable prices. All models are made from the high quality materials: stainless steel, chromium, copper and leather. The mineral glasses are treated with the scratch-resistant coating. In France, Pierre Lannier watch company is reckoned among the most popular watch brands due to the high quality and affordable prices of its products. The Pierre Lannier company was inherited by Pierre Burgun, Jean-Paul's son.
For one thing the new owner developed the watch, that suited the tastes of the young people. The Pierre Lannier watch collections include both men's and women's wrist watches. Women's watches by Pierre Lannier don't just show the time, but they are also wonderful accessories.
The Pierre Lannier watch collections are very diverse. The company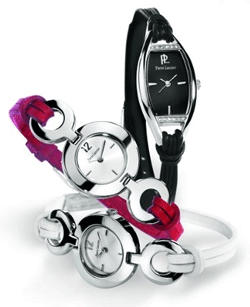 has released the following lines: Adventurous spirit, Glamour again and again, Be happy, Pure line, Passion by Pierre Lannier, A smart man, Gold addict, Flowers, Glam & the City and Black & White.
The men's models are very practical. You can go in for sport, go to work and attend the business meetings, having a Pierre Lannier on your wrist. In 2000, the leading fashion magazines marked the Millenium watch by Pierre Lannier as one of the most popular accessory of the season. These wrist watches have the stainless steel cases, that are made in the form of the Arabic numeral "2" with three small zeros on the nubs.
E = MC2 watches are named after the formula of relativity. They are characterized by the large round dial with the embossed Arabic numerals. The dial, hands and numerals are made of steel of a single color, that gives the model a special extravagant flavor.
Pierre Lannier watches attract everybody's attention due to their original forms and stylish, but unpretentious design. The watch design is developed by Pierre Lannier artists, who take into account the fashion trends and decorate their models beautifully but with no luxuries.
Pierre Lannier watches have become famous and popular in many countries worldwide. These watches will underline your individuality and elevated style.