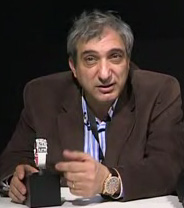 Peter Tanisman watch brand was founded in 2008 by Peter Tanisman (Bedros Tanisman), the ethnic Armenian. These watches sounds to everybody a good deal like jewelry. The company founder was born in Istanbul in the family of jeweller. Having moved to Geneva, he continued to adhere to his family traditions. Therefore, the watchmaker is fond of precious stones and metals.
Peter Tanisman company presented his gorgeous Carrousel women's watches at Baselworld 2010. These watches have a curved rectangular case, made of 18K rose gold and set with 552 diamonds (the total weight – 12.76 carats). The watches are based on the automatic or quartz movements. The watch functions: minutes, hours and date. The watch strap is made of crocodile leather with the golden buckle, encrusted with 146 diamonds (the total weight – 3.14 carats). The models are characterized by the 40-hour power reserve, the water resistance is up to 50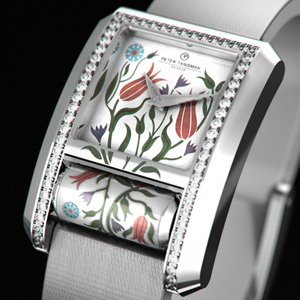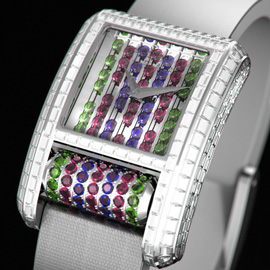 meters. The watch design is rather innovative – in the lower part of the case there is a movable cylinder, offers the unlimited customization for setting, engraving or a miniature painting.
Peter Tanisman company released Carrousel Fantasia watch, a new version of Carrousel. The watch case, as apposed to the previous ones, made of white gold. Besides diamonds (161 – 10.86 carats), the watch is encrusted with emeralds (14 – 0.17 carats), sapphires (14 – 0.27carats) and rubies (20 – 0.39 carats). The watch is based on the quartz ETA E01,701 movement, and comes with the leather strap, the gold buckle is set with 178 diamonds (the total weight – 1.51 carats).
In January 16-21, 2011, Peter Tanisman company participated in Geneve Time Exhibition exhibition, presenting its new models.