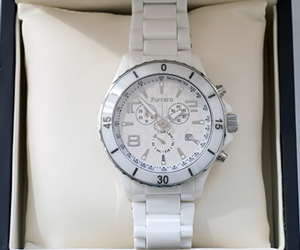 Luxury watches, produced by Parrera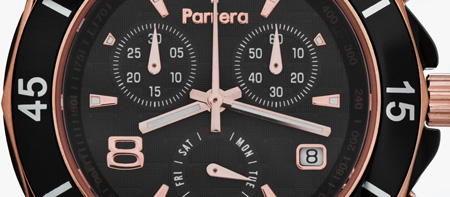 jewelry company, immediately attracted the attention of the elite accessories admirers. This brand is a part of the family business. Several generations have been occupying with the production of high-quality jewelry and watches. The collection of Parrera ceramic watches consists of seven lines, including 30 models. All models are assembled on the basis of the high-quality Swiss movements. The watches are equipped with the scratch-resistant glass, protecting the dial. The water resistance is 5 ATM.
Being hypoallergic, the ceramics is used as the basis of wrist watches. All watch elements are made of the powder-like material, known as zirconium oxide. This material is shaped up by melting at the extreme-high temperature. The result of this process is a ceramic, that can be transformed into a magnificent bright masterpiece after the final polishing. Due to the rotting resistance of ceramics, it can be used for domestic purposes.
You can buy Parrera watches only through the company dealer network, presented on the official website of the brand. If you buy the watches in any boutique, you will surely become the owner of infringing goods.

44 mm Day Date Chrono is a wrist watch, made of high-tech ceramics of pearly-white colour. The second model is made of fascinating black ceramics. These chronographs are based on the high quality quartz movement, made in Switzerland. The watch is equipped with sapphire crystal, the power reserve indicator and the date aperture. The watch is water resistant to 5 ATM. The bracelet is also made of ceramics and equipped with a stainless steel buckle.
44 mm Day Date Chrono line includes 14 ceramic models, based on the Swiss quartz movements. The models are fitted with the sapphire crystals and indexes. The watches are water resistant up to 5 ATM. The strap is made of white leather and equipped with a buckle. Each model comes with six additional straps of different colours. The owner of the watch can create the mood himself/herself by selecting the colour of the strap.
Parrera watches will show everyone your impeccable and unique taste. These wrist watches will become an integral part of your perfect image.