In 1990, the CITIME company was established. In 2003, CITIME bought Oxygen brand created in the same year, in Paris. The Oxygen company, located in the famous Saint-Honoré street, produces original comfortable watches for travellers. Its first collections, interestingly named «Transatlantic», «Jet Set», «Globe Trotter» and so on, immediately drew attention of travellers and all people who lead an active way of life.
The company's headquarters is situated in Paris, Saint-Honoré street. Very soon Oxygen watches became to be well-known in many countries. Oxygen watches catalogs were presented for selling on board of airliners of such airline companies as Air France, Singapore Airlines, Japan Airlines, Korean Airlines, KLM, Luftansa, Austian Airlines.
The company has launched a wide range of collections of wristwatches of different colours: «Planet Dual Time», «Globe Trotter GMT2», «Pilot 2», «Classic», «Exchange Sport», «Exchange Diver», «Message», «Globe Trotter 2 Dual time», «Travel Light».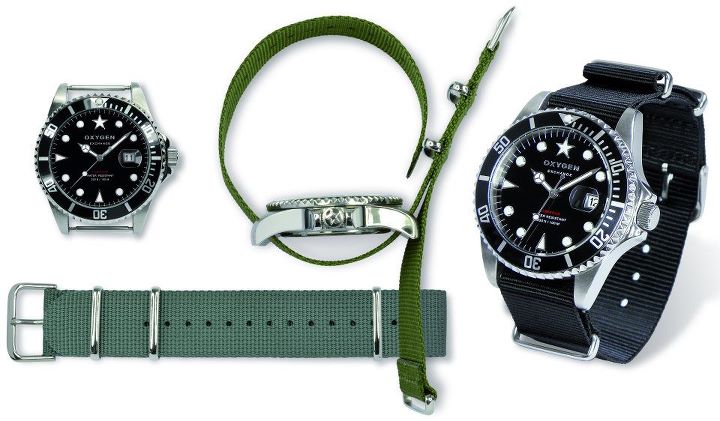 Oxygen watches
The watches are equipped with quartz movements, the cases are made from ceramics, stainless steel or stainless steel special black coating, crystals are mineral. Watches are water-resistant to 50-100 metres. There are models with hour indexes and hands covered with luminescent coating. Several models have two straps which are easy to change. Almost any model has GMT functions, a power – reserve and an alarm. The company do not also forget about divers. Specially for them, the collection «Exchange Diver» was launched. Its watches are equipped with rotating bezels and two straps which can be easily changed by an owner himself. There are also the collection of watches equipped with a strap of two tints – an upper part has one colour, a lower part – another one.
In 2010, Oxygen supplemented its collection «Dual Time» with the new original models. None of travellers will be indifferent to a wide range of models of different colours. The cases of the watches are made from stainless steel, crystals are mineral and straps are made from leather. There are also models with straps from rubber. This collection also includes the chronographs equipped with GT2 function.
In 2011, the company presented its new collection «Travel Light Message» at the Baselworld exhibition. Besides, at the same year, the brand will launch other collection of sports watches with three straps.
Oxygen watches are available at the company's dealers.