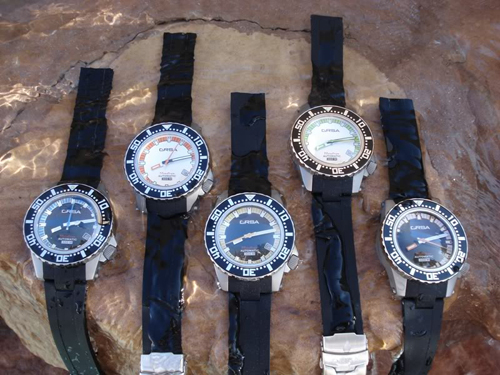 Diving is a man's adventurous challenge to the nature. The history of the conquest of the depth links not only to triumphal victories but also to tragic accidents of bold explorers. Initially, opportunity to dive and to explore the underworld only belonged to scientists and military men. But, the invention of an aqualung by French scientists Jacques-Yves Cousteau and Émile Gagnan was the beginning of diving popularization. With time diving equipment became more and more durable and safety, and a new tendency to create various accessories especially for divers appeared in the fashion world. In particular it affected the watch industry much. Diving watches immediately won fame among both divers and lovers of original chronometres.
All, who were keen on diving in their life quite a little, have heard about the watch brand Orsa once. This company specializes on producing watches for divers and its founder is Martin Berg.
Orsa watches like others feature big dials which are comfortable to read time in any extreme conditions.
One of the famous watch line is, no doubt, the Sea Angler collection. These watches were launched in edition of 50 pieces and were immediately sold out for a short period of time, and that meant that the collection won success. The collection featured the vividly orange dial and the automatic movement.
The Monsrtrum watch is performed according to the best traditions of the horology. The case with a diameter of 46 mm and a thickness of 18 mm is made of stainless steel 316L. The model is equipped with the automatic movement Miyota on 21 jewels. The bezel is unidirectional. The date aperture is situated at 4 o'clock position. The dial with luminescent hands and numerals is covered with a dome-shaped sapphire glass of 5,5 mm thickness. The screw down crown is 8 mm. The watch is water-resistant to 300 metres and has a weight of 146 gr. The strap is made of rubber.