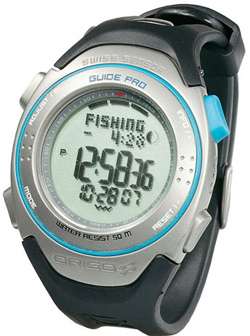 Origo production belongs to the multifunctional wristwatch class presented in several lines that differ from one another in function quantity. The brand offers watches equipped with a barometer, an altimeter and a digital compass. Origo products are made in China and mainly sold in the USA by the distributor NA Gear.
Origo watches are extremely light and easy-to-use. The company's production is divided into lines especially intended for hunting, fishing, mountaineering, hiking and for all who prefer to spend time in the nature. These multifunctional watches will help you in very extreme conditions. Origo watches are just for those who lead an active way of life as well as active freetime.
So, the Granite Peak watch line is mostly intended for those who are keen on mountaineering and hiking. They feature their style and functionality. Watches have an "imposing" look: the dial is installed in the case made of black stainless steel, in the proper sense, giving a "heavy" look (its weight is 140 gr) to watches. The strap is made of rubber that will perfectly suit extreme travellers. However, as producers warn, the strap should not contact with any types of cream not to damage it. Models have the following functions: a
compass, a barometer, a chronograph, a double alarm, a date indicator and a timer. Watches are water-resistant to 50 metres. Besides, watches can show temperature around you but it depends on your clothes, and a calculating error can be about 15 degrees Celsius higher than in reality. One of its main merits is a quick change from a compass function to altimeter one by pressing the button "Start/Stop" for a compass and "Reset" for an altimeter. After pressing this button the dial displays the current altitude and the compass indication during ten seconds, then these indications change into the current time again.
In 2008 the company presented three watch lines: Origo Pedometer Watch – for those who prefer hiking, Origo Guide Pro Series – for hunters and fishermen and Origo Granite Peak Titanium – multifunctional wristwatches.
Origo Pedometer Watch is for travellers who walk much. Watches will provide you with the information concerning your traversed path, burnt calories and made steps. There is also a chronograph function.
Origo Guide Pro Series watches analyze atmospheric state on-line and display the information. They can also display data of thirty past hours concerning weather, temperature and barometer indications. There are also standard chronograph functions, an altimeter, a digital compass and a calendar function.
Origo Granite Peak Titanium includes multifunctional watches also having a barometer, a weather function, an altimeter, a digital compass and a chronograph.
In a word, if you choose an Origo watch, you buy not just a watch but an instrument being necessary in any hike and travel, which will not let you down and always be on your wrist.