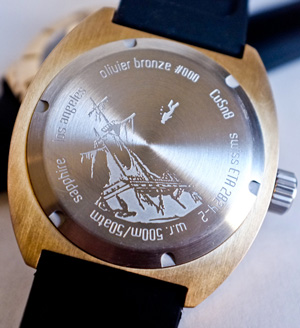 "Olivier" is a watch company, involved in diver watches elaboration and production. The company is situated in Los Angeles, in a waterside city of Redondo Beach. Despite the fact, that Olivier watches are made for divers, the brand's philosophy is that they can be worn anywhere at any time, both on the ground and under water.
The company was founded by Roland Oliver Tetenbaum, who was born in Redondo Beach and grew up at the water, where all his childhood was spent. Roland inherited his passion and interest to watches from his father and today he is proud, that he can design his own watches and offer them to the world. As for any other watchmakers, for Roland it's importaint, that his models have high quality and be distinctive from other brands' models in their originality. That's why he puts out all his strength in their creation. Olivier watches are made of highest quality materials and equipped with sustainable movements, providing their precision. You can be sure in these watches' sustainability, because they undergo quality tests before being put out to the watch market. As the brand's creator says: "Our watches are made to be durable and reliable friends in your everyday adventures".
Before producing wrist watches, Roland was known as a producer of bronze wrist watch buckles. All Olivier buckles are made of firm bronze CuSn8 fusion and are produced at the company. Today Roland presents his first diver watch, "Olivier Bronze Diver", designing which he thought of any facts and situations possible and impossible. With a watch like Olivier Bronze Diver you can feel sure in any situation. Moreover, the watch's outlook was importaint for its creator as well. Nowadays the watch market is full of different diver watches and every company strives for exceptionality and individuality. That's why the watchmaker chose CuSn8 bronze, called marine and having a unique peculiarity: the point is, that CuSn8 bronze changes its colour with time and when it touches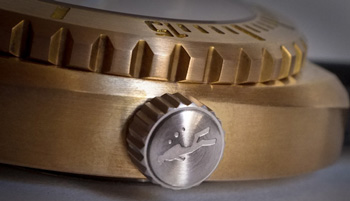 different other materials. The watch's case is made of CuSn8 bronze and its case back is made of 316L stainless steel with engravings of a ship and an scuba diver. The 8-mm crown with the company's logo engravement is situated at the "3" position. The helium valve is at the "9" hour mark. The black dial, supplied with 3 hands and a date aperture between the "4" and "5" indexes, is protected with a 4-mm sapphire crystal with antireflective coating on the inner side. The model is executed in 2 versions: with a bronze and a black-coated bezels, that can be easily interchanged by the watch's owner. The bezels have numbers, covered with luminescent coating. The watch is supplemented by a black rubber strap. The movement choice was not easy for Roland, because he wanted to equip his watches only with best movements, as any other watchmaker does. He considers Switzerland and Japan to be the world's leading movement producers. That's white he chose ETA and Miyota. One version of the Olivier Bronze Diver watch is equipped with the automatic ETA 2824-2 movement and the other one – with the Japanese Miyota 8215. The watch's water resistance is 500 metres.
You can buy the Olivier Bronze Diver watch, ordering it at the company's official website.