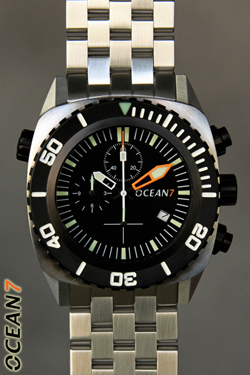 A man is always attracted by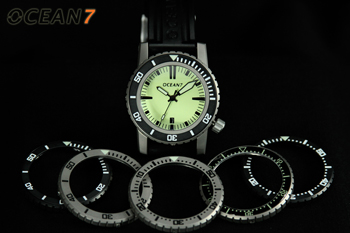 places where he can be alone to think about his life and free his mind of everyday routine. Just under the water many of us are looking for a sedative touch with nature, the touch to its healing and tranquil beauty. Diving is a fashionable liking that has recently become more and more popular both among young people and older generation. Today diving is not just jumping from the precipice into the water with company of friends or demonstrative swimming in a mask along the shore. Diving has already become a separate and independent branch of tourism and a way of life for some people.
It is quite natural that universal craze for diving and its development has led to appearance of new fashion for accessories that would be made for reason of the underwater world and also useful and practical during diving itself.
A wristwatch has become one of the most required accessories during diving, of course, after an aqualung. Today more and more eminent brands pay attention to designing and producing watches intended for divers. And there are companies that specialize only in this direction. The Ocean 7 Watch Co company is one of companies making wristwatches for divers. Watches of this brand is mainly being launched in limited editions.
The brand's founders noticed that their main goal was to create watches for diving and for those who the underwater world was more than just a fun for.
Design of Ocean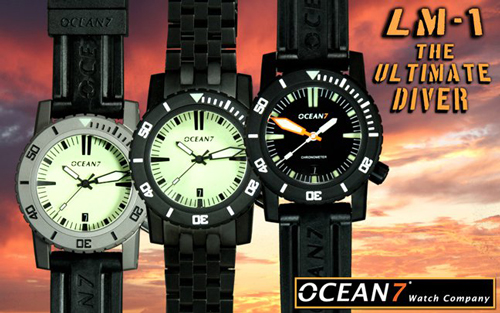 7 Watch Co design is simple and clear. Designers of watches said that, first of all, for them it was important to put in the forefront functionality and usability of their chronometers. Style of Ocean 7 Watch Co timepieces resemble the one of the French legendary brand "Plongeur" which was a pioneer started making watches for diving and whose models are now considered to be collection.
Ocean 7 Watch Co dials have simple and clear performance, especially if to compare them to complex ones of other brands. The company's philosophy is simple and effective: plain and functional wristwatches for diving.
Ocean 7 Watch Co watches are constantly being improved, and the company's masters are not stopping experimenting on new materials. Thus, the watch series called LM is a standard of single diving watches in the world equipped with a selection of easily changeable bezels. Cases are made of high-quality stainless steel plated with carbon. The company's watch range also includes the AN and Early Bird collections performed in the best traditions of the Swiss horology. Watches are equipped with automatic movements. Ocean 7 Watch Co watches are intended for those who appreciate design simplicity and usability.