NakedWatch is a Japanese watch company that produces exclusive skeletonized watches that fascinate with its outstanding design. The building is located in a small town Lonkong, near the town of Shenchzhen. Shenchzhen is unique city that is located in the province Grandun, known for its many watch factories, as the valley of the Jura in Switzerland. Mark NakedWatch more than ten years owned by the companies and Genender International Sonman Industrial Limited.
Despite the fact that NekedWatch - a small company, however, model development, quality control, assembly and manufacture, testing for water resistance, fitting the strap, as well as final quality control - all happening in its own factory. Note also that the label released a month of 100 hours of 000 pairs of 10% are mechanical, 90% - quartz.
Small amounts of mechanical models of hours also includes models with a tourbillon.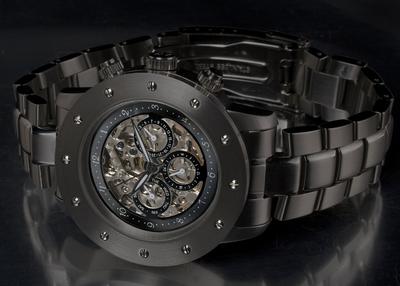 NakedWatch(R) Saratoga watch
Executive Vice President and Director of Foreign Trade (foreign economic activity) Genender International Dzhenender Alan says: "For our projects we use NakedWatch mark the company's products Seagull, based in Shanghai, especially for the production of Tourbillon. And because of their characteristic mechanisms of stable quality, the master of such gauges are working longer. The company produces high-quality products Seagull. In addition the company is still three or four major manufacturers involved in the production mechanisms. "
NakedWatch company was founded in 2002. Its aim was the creation and production of quality mechanical watches skeletonized at an affordable price. According to the Vice President of Sales and Marketing Doug NakedWatch Flentidzha, "Our company produces high-quality and cheap watches. We take care of nature, which is why we choose a mechanic and tried all ways to emphasize the beauty of the mechanism. And since beauty skeletonirovannyh hours does not have any other model, we decided to focus on producing only skeletons. I love the bold and pure style. That's our philosophy."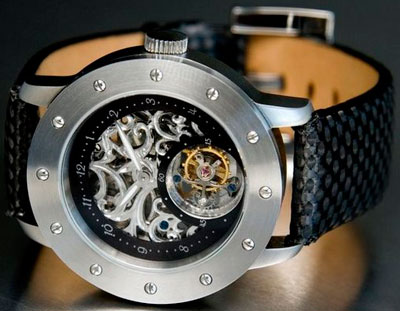 watch with tourbillon - Tailored Tourbillon Skeleton
Today some of these brands, which produce such extraordinary wrist watches, really, are currently the most interesting and complex. When you build such a model master remove from 60 to 70% of the metal to get the effect Skeleton. Engraved by hand skeletonizing mechanisms of its irresistible charm models beauty.
Issued brand men's and women's watches emphasize a bright personality and a subtle taste of its owner. Each model from the brand NakedWatch - a work of art. Round, square, barrel-shaped, rectangular shell models are made of stainless steel. Protect the delicate mechanisms mineral crystal on two sides, allowing you to enjoy the work mechanism. Skeletonized hands, hour markers custom dials give a unique look. Complement of the model-colored leather or rubber straps. Water-resistant of watches - from 30 to 50 meters. The collection of the company has a multi-functional model. Some watches are equipped with a mechanical movement for 17 precious stones, and others - an automatic, collected on 20 or 21 jewels. Watches NakedWatch have serial numbers on the back cover.
| | |
| --- | --- |
| Winston watch | Charles watch |
Prices on products NakedWatch vary between 200-479 dollars.
The company recently released an exclusive NakedWatch skeletonized watches with a tourbillon - Tailored Tourbillon Skeleton. Release version of the model, however, non-standard, anyone can order this model, changing it in any parts or materials, as well as add or remove features to suit your taste and desire. Masters called this an elegant model of the "unique tourbillon." 42.4 mm watch case is made of stainless steel attached to a dial 12 with screws. The dial is made of the edges in black, who engraved and marked where the Arabian hour markers. In the central part of the dial is skeletonized movement, two hands and positions in 6:00 - great tourbillon, which gives a luxurious hour and an amazing view. The strap is made of carbon fiber black. Bilateral sapphire crystal makes it possible to enjoy a mechanism TY8080 SK handmade. Mechanism, collected 19 precious stones, gold is composed of parts. Water-resistant of models - 30 meters. Cost of wrist watches Tailored Tourbillon Skeleton of NakedWatch - $ 12,500.00 USD.
Unfortunately, the company NakedWatch not as well is known in the watch market. As the Flentidzh, the main problem is not the mark of Chinese machinery. The fact that people are not aware of its products. The brand NakedWatch is little known in wider circles. Flentidzh sure it's only a matter of time because it's impossible not to notice skeletonized exclusive models that produces NakedWatch. In the future brand plans, except the Chinese, also use Swiss movements. And now the watchmakers NakedWatch are working at skeletonized chronographs «Charles» and «Winston».