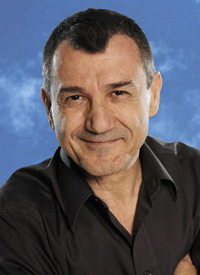 Vincent Calabrese is one the famous watch designers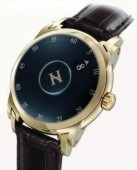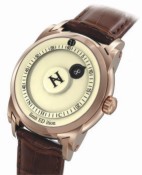 in the whole world. Created by him, small masterpieces always strike and amaze with their perfect design and high quality. It should be noted that the master makes these unique wristwatches by hand. It should not be forgotten that movements, with which models are equipped, are also being made by the master by hand. Watches, on which the inscription "Vincent Calabrese" are marked, have become an embodiment of originality and perfect quality.
Besides his company of the same name, the master established another brand under the name NHC - Nouvelle Horlogerie Calabrese. The new company was opened by him and his daughter, Tina Calabrese.
Starting from 1977, Vincent has been in a non-stop search of new inventions and realizations of his ideas. Calabrese's vision reflects on NHC watches much.
The collection of watches, having been launched under the NHC brand, could not be unnoticed, because watches' originality and unsurpassed design immediately evoked enthusiasm and admiration on the part of both lovers and professionals. NHC timepieces are uniqueness, innovative design, high quality, mysteriousness and at the same time unreal simplicity that allures and charms. NHC models uncover the luxurious and incomparable rich world of wristwatches which are made with great love, passion and attention. Every brand's model is the symbiosis of beautiful art and creative workmanship, this is the world of creations and real inventions.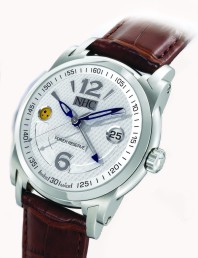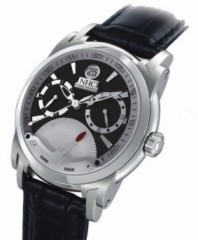 Nowadays the company presents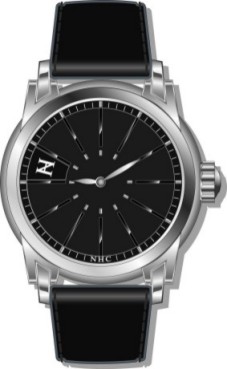 a wide range of unique models. The first series was launched as a result of the collaboration with the master's friend, ?, in 2004. Just that year these original models - Analogica, Central Power, Beauty-Fuel and Ottica were exhibited at the international Baselworld fair.
Diversity and original design of finishing of every model strike. For example, the Ottica model is watch without hands, hour markings but with a "jumping" hour. An hour jumps every 60 minutes, seconds are indicated with the disc located in the centre of the dial that is covered with a sapphire glass with an optical effect. The case is made of steel, cases of other models are of 18 carat red gold. Both steel bracelets and leather straps with a folding buckle attach to models.
The next collection presented by the master in 2004 is Analogica including models with the same features as the Ottica series has. But, besides "wandering" hour and minutes, there is so-called "wandering and jumping" calendar which makes a complete turn during one month.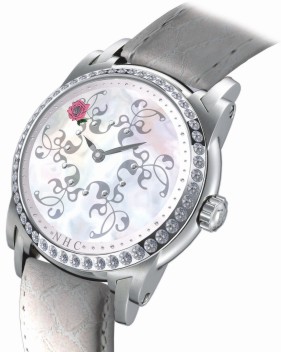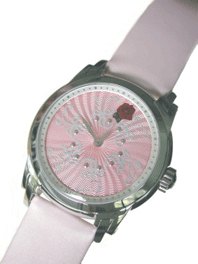 For lovers of classical style the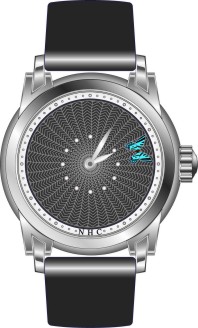 master designed the following series of watches: Central Power and Beauty-Fuel. These models have a 166 or 180 hour power-reserve, a calendar and two time zones (the Beauty-Fuel collection). Cases are made of steel with PVD coating or 18 carat red gold, dials are covered with a sapphire crystal. Watches have a in-house automatic movement from Vincent Calabrese and steel bracelets or leather straps.
The Fl'ora Mop and Fl'ora Sun series were presented in 2005. These elegant models for women charm with their delightful look and inimitable design finishing. Cases are made of steel or 18 carat red gold. Dials are a vivid colourful world of different tints and covered with a sapphire crystal. Both steel bracelets and leather straps attach to models. Watches are equipped with an automatic or quartz movement from Vincent Calabrese.
The same ideas of fresh and vivid colours reflected in the Fly'ora, Avvent'ora and Col'ora watch lines.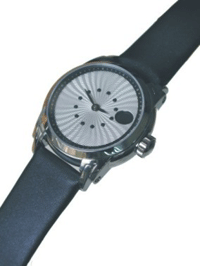 One cannot but remember of the Gala unique model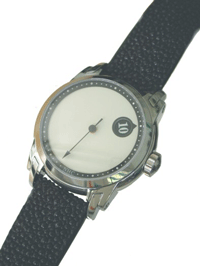 whose movement combining digital and numerical displays for a "jumping" hour. This is the watch including one hand, a "jumping" hour and the steel or 18 carat red gold case encrusted with brilliants. The leather strap with a folding buckle attaches to the model. Through the transparent backglass the movement from Vincent Calabrese is seen.
NHC watches are another world being full of innovations and vivid impressions. NHC products are available at the company's official website to order.