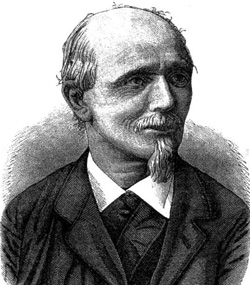 Moritz Grossmann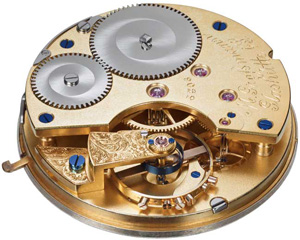 watch-company consider oneself as a heir of Glashuette traditions Moritz Grossmann was a genius watchmaker. He was born in 1826 in Dresden. His teacher was Gottfried Friedrich Kumme who taught Moriz to make watches. In the same time he was studuing English, French and Italian. In 1842 he got acquainted with Ferdinand Adolph Lange – a watchmaker who wanted to create an absolute original watch. Both of them were studying the secrets of such small masterpieces. In 1847 Moritz Grossmann visited Hamburg for the first time in his life where he met Moritz Krille – chronographs producer. After this he returned to Munich in order to study horology in a famous work-shop of Josef Bierganz.
For some time Moriz lived in Switzerland in La Chaux-de-Fonds, studying hard after which he decided to go to England, France, Denmark and Sweden which was really necessary for him in order to collect essential experience and secrets of watch-making.
In 1854 he returned to Dresden, and this very year became really fatal for him. Moriz's old friend Adolf Leng, who founded Glashütte watch company offered him to open a work-shop. Moriz did as he told. There he made machine-tools and other necessary machinery which helped him in pocket-watch, pendulum watch and chronometers producing.
At the same time he was giving lections and wrote articles for different horology magazines. Also he translated books about art of horology. In 1866 Moriz won the first price in a competition which was handed by British Institute of Horology (London). He wrote an essay which was called "a separate release lever".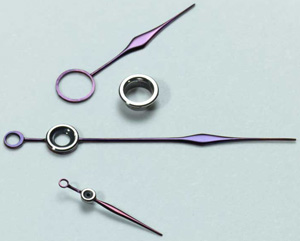 Moriz devoted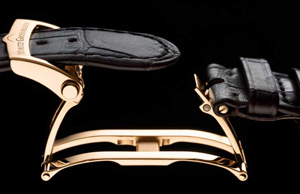 himself to Glashütte and did not spare one's energy and forces. Except watch-making business he founded a voluntary fire team, started to build a railway in Müglitz valey. In 1878 Moriz opened German horology school in Glashütte.
In 1885 Moriz Grossmann died. After many years of a talented watchmaker's death a watch company Moritz Grossmann, was opened, which still follows the best traditions of horology art.
Moritz Grossmann company was opened in 2008 by Cristine Hatter, who was learning secrets of watch-making for many years. Every watchmaker who works at Moritz Grossmann work-shop wants to make their creations perfect even processing very small details. In order to do this all the team of best watchmakers are searching for some new ways of watch-making and processing releasing some perfect creations at a horology trade.
Today the company presents its first model which is called Benu. It compounds the best old traditions of horology. The name of the model was not taken occasionally. The name "Benu" is known by the Egyptian mythology. Benu is a bird which looks like a heron and which embodies eternity or renaissance. According to the mythological stories, this bird flying above the ocean surface landed on the Benben rock, which appeared from the water. The bird's cry symbolized the beginning of the World creation. Every morning Benu appears as a Sun. According to the legend, once evening it made a nest, settled down in it and was taken up by a fire. However, from an egg which was left by a Benu, another bird appeared the next morning. An Egyptian legend presents the bird Benu as a spirit of Sun Ra. The name of Benu is connected with the word "Beben", which means – "to shine".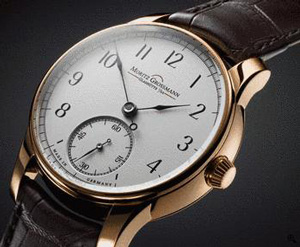 So well, Benu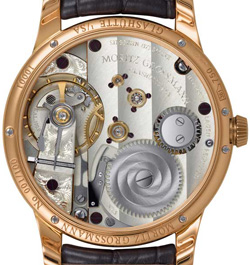 is a first model of watch created by Moritz Grossmann watch-company. It proves the fat that the best traditions and the spirit of German horology and genius watchmaker Moriz Grossman are still alive. Benu watch is more than just a watch, it is a history, which tells about the life and experience of the author. In the 21st century all the ideas continue to live and are made come true by the company of the same name. An elegant design and a perfect blend of high technology materials are compound in one model. A round elegant case is made of rose gold of 750 standard. It is supplied with silver round bezel which surrounds silver dial.
The dial has hour and minute hands and a small second hand at the position of "6 o'clock". At the position of "12 o'clock" there is a logo. The dial is protected by a sapphire crystal which let to observe a beautiful work of a movement. Usually Grossmann's models are supplied with genuine leather straps and a buckle of a butterfly shape, made of gold. Watch has a manufacture movement (manually re-winded). Movement consists of 188 elements, the surface of a movement is polished and the edges are beveled. Benu watches are released in limited edition in 100 items. They perfectly complement the collections of famous watch lovers and collectors.