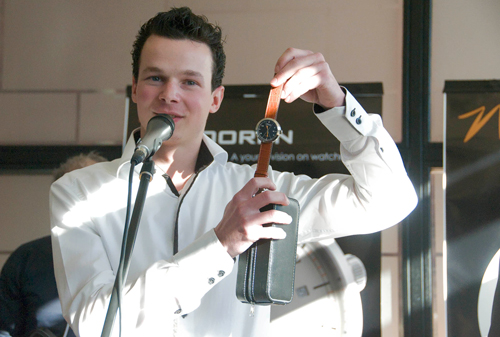 Mooren is the Dutch watch company founded by the young talented watchmaker Mick Mooren. He was interested in watches still in his childhood. And at the age of 16 years old he decided to work and then assembled his first mechanical watch. Mick noted that he himself had not observed how quickly the time had flown while he was assembling the watch because it had been a very interesting occupation. Simultaneously during the assemble he read much about the horology combining theory with practice that helped him a lot. All began from plain tools then about a year later he started working at the workshop of his father's uncle, where, besides tools, there were the best equipment to assemble watches. The point is that the father's uncle was very old and could not occupy himself with watches anymore but he was lucky that his business would be continued by the talented youth who was dreaming to design and assemble timepieces all his childhood.
Mick has put much time and effort into his favourite occupation attentively studying old movements. And so-called guide during his studying was the book under the name of «Modern watch repairing» by 1950 which was given to him by his father's uncle. Due to this book Mick could develop his skills and knowledge concerning the watch art for a short period of time.
Mick started not only to design but to repair watches. Besides, the young talented watchmaker made drafts of unique watches whose design was chosen at his own will. The mysterious and magic world of watches interested and attracted him more and more with time, and the young watchmaker had the desire to create timepieces under his own brand. He himself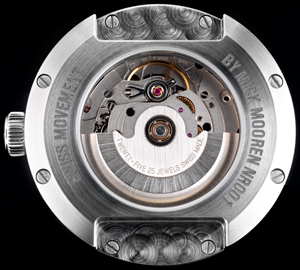 noted that it was better to concentrate on the one: to develop your own project, your own design and to launch your own models of wristwatches. Just in that way the Mooren brand was born – the new young watch company which is headed by the talented watchmaker who spares no effort and makes everything possible depending on himself to present new production blown by freshness, new spirit and having original design to the world. The most significant for Mick is that his company must not be another watch brand or a copy of that is already been, but produces watches which will differ from models of other brands but the same time, of course, keep all traditions of the watch art. The conception is also the junction of old components with contemporary materials, because only this will allow to get really original design, the design that is not dependent on time.
Design of every model requires much time and effort and consists of several stages that are thoroughly controlled as well as arranged. Mick said that in the end, a watch is not just an object but the whole history. So it is so important that each step should be under strict control. Only in this case the wishful result can be achieved, and to be more precise – an original timepiece.
Of course, one cannot but forget about quality of materials. Naturally, that excellent design requires materials of high quality only. Mick himself selects cases, dials, hands and other parts at his discretion. For example, the case of the Mooren watch is a modern interpretation of cases of classical pocket watches which have round cases and no lugs for a strap. As in the case of such round case a strap is fixed to the backcase.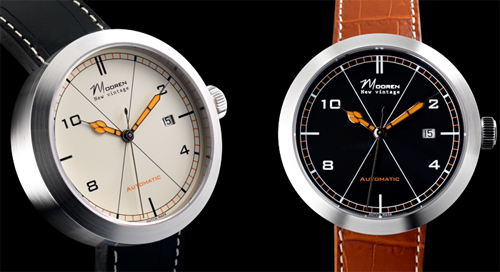 The dial is the combination of modern and old classical components and marked with the Arabic numerals of old style. The date aperture is situated at 3 o'clock position. The dial is also two crossing lines which give distinctive and original look to the watch. If you look attentively to the dial you will notice that these lines make a form of a sandglass.
The hands have classical style. Three hands, two of which (hour and minute) are coated with orange luminescent substance and not so long as a second one. Just all of these features the Mooren company's first watch New Vintage has. Its round case of a 42,2 mm diameter and a 12,3 mm thickness is made of stainless steel. The dial has three hands, is marked with Arabic numerals and protected by a sapphire glass. The hands are coated with orange luminescent substance. The strap is made of genuine leather. The model is water-resistant to 50 metres and equipped with the Swiss automatic movement ETA 2824. There are some versions of this model: with a black dial and a black strap, a black dial and a brown strap, a white dial and a black strap and also with a white dial and a brown strap. The New Vintage watch from the Mooren company is available to order at the company's official website.