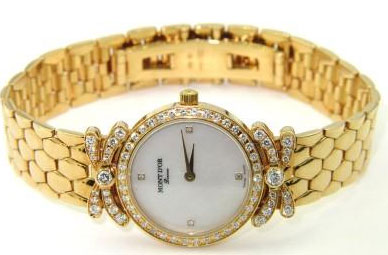 Wristwatches of the watch brand, combining elegance and usability, appeared in Switzerland that is famed for rich traditions of the watch workmanship. All the company's models feature high-technology cases being made of 18 carat gold, bracelets and hand-treated crocodile leather straps. Mont D'Or timepieces are performed according to the best traditions of the delicate Italian design. They are equipped with quartz or self winding movements made by the Swiss ETA company. Models of watches, being exquisite jewelry masterpieces, are decorated with brilliants and mother-of-pearl of the highest quality.
A serial number is engraved on the backcase of every model. Dials are covered with a synthetic sapphire glass being resistant to any damages. Thanks to the transparent backcase you can enjoy watching an operation of a movement which is gracefully decorated. Models are placed into velvet-framed wooden boxes.
The Mont D'Or watch brand has an opinion that precious stones are never a lot. The elegant women's model of wristwatches is made of 18 carat yellow gold. The bezel and the case are decorated with brilliants of total weight of 1,54 carat. The lugs have a form of a small tied bow which is completely decorated with brilliants. The bracelet consists of links having a form of honeycombs and has a three-leveled folding buckle. The classical round case has the mother-of-pearl dial encrusted with four big brilliants. The watch has a price of 24.000 USD.
The brand's production has price point set in the high level of the market. Mont D'Or watches are available at jewelry boutiques.