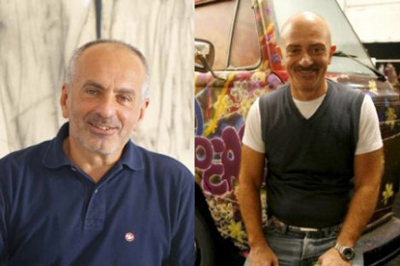 Miss Sixty watch brand was founded in 1991 by Italian designer Wichy Hassan and Renato Rossi. They create models for young women who prefer to look amazing and sexy. Brand production is mostly at a fashion-segment. In 90-s there were no jeans made for woman at fashion trend. In order to correct this, Energie brand designers made a female clothes series and called it Miss Sixty. Lots and lots of women liked it very much and soon it became an independent brand.
Thanks to high-quality denim processing, designers created models wich pays attention to the beauty of a female body. Designers adopted the style of 50-s and 80-s for their collections, having mixed it up with some original decorative elements and son unusual materials. Miss Sixty collection is an example of "city glamour" style which combines refinement and convenient, unusual style and practicalness.
In 2001 a new series of foot-wear Miss Sixty was designed. In 2002 Miss Sixty brand together with Marcolin S.P.A. company started to produce sun-glasses and spectacles. In two years Miss Sixty brand together with Coty Inc created parfum series, accessorizes and watches. The license for watch-producing was given by Morellato&Sector company. Time meters are perfectly suit the image of a person who wants to look modern and to keep in step with time, following new trends and tendencies.
Miss Sixty watch is a combination of high-quality materials, innovation design and the latest technologies.
All the models are complected with quartz Miyota movement. Cases are made of stainless steel (some cases are PVD coated), decorated with different elements and Swarovsky crystals. Dials are closed by mineral crystal. Miss Sixty watch collection has different models (from classic watch with straight line and minimalism design to glamorous models decorated with flowers and butterflies).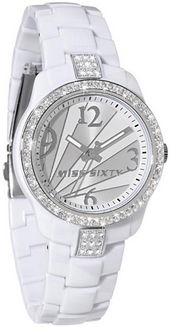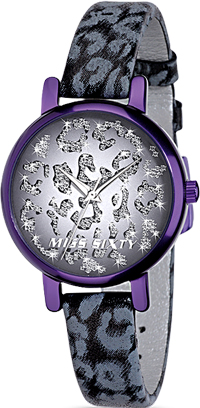 Miss Sixty collections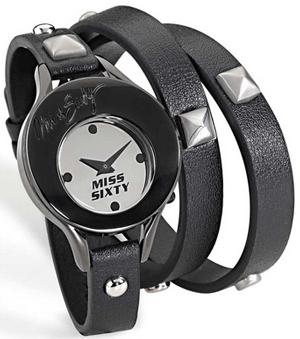 are renewed every season and can be bought in affordable prize which let any woman of fashion change functional accessorizes every year.
2010/2011 collection can be divided into two groups – Borchie (sport models) and forever (watches present an original design ideas).
Models of "Forever" collection attracts attention by unusual design: hexagonal cases, chain-bracelets decorated with pendants of different shape and size (keys, hearts, Rubik cubes, and padlocks which symbolize real love and reflect the hidden meaning of collection's name). For models decoration Swarovski crystals were used.
Borchie is a sport-watch with big round cases and metal bracelets. The models are different from others by colors of their dials which are decorated with enamel elements of red or black color.
Miss Sixty watch is a perfect composition of style, quality and reliability. All models are 30m waterproof.
Miss Sixty is the best brand of Sixty GROUP holding which include also some other brands Energie, Killah, Murphy&Nye, Refrigiwear, Richlu è Baracuta. Their average annual income is $700 millions. For 20 years the brand took leading positions at the world trade and became a symbol of creative experiments.
Today it has own agencies in the South America, Europe, Asia and the US. #50 shops are opened in 100 countries al around the world.