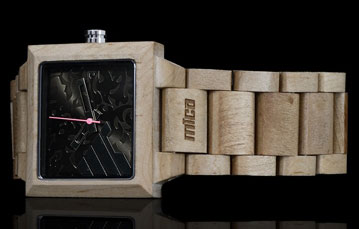 The Mica watch brand is the first company producing collections of watches which are made of 100% maple. It is known that maple wood is durable, hard, heavy, thick and has a beautiful tracery formed by narrow dark lines giving it peculiar decorative look. A maple is a graceful and very beautiful leaf-bearing tree that has a number of features which none of trees has. But its wood is very viscid. Despite the maple is very hard and elastic, it is easily treated. Damp wood can change its colour so it is dried out as quickly as possible. But the process can be very careful, because the wood can crack and warp during drying. A minor drawback is that maple planks are not resistant to exposure to weather so wood must be always dry.
The maple is mainly used to make furniture, musical instruments and veneers, and after special treatment in the carriage and mechanical engineering.
Especially for those who ride on a snowboard and a skateboard, the Mica company produces rather hard wristwatches being shock-resistant at any situation. The snow-team including Cale Zima, Jordan Mendenhall, Will Tuddehamm, Sean Black and Alex Andrews and the skate-team consisting of Ronnie Creager, Josiah Gatlyn, Micah Hollinger, Adam Arunski and Garritt Gilbert choose durable Mica timepieces.
The company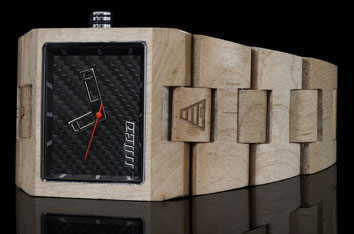 offers both watches for men and women. Collections have interesting names such as Plank, Deck, Drift and Baron. Cases and bracelets are made of 100% maple. Crowns and double folding buckles are of stainless steel. The design of hour and minute hands in contrast to a thin second hand is interesting. They remind a hook of a zip. Hour markings in a form of lines are located on many-coloured dials covered with mineral glasses. The company's logo is situated in the right lower corner of the dial or at the 9 or 12 o'clock positions. Models of the Plank collection have a guilloched dial. Models of the Deck collection have many-coloured shining dials with a date aperture located at 3 o'clock position. A case diameter is 40 mm. Another collection of the brand is Drift including checked dials. There are three hands on the dial. A case diameter is 37,5 mm. The Baron collection is also interesting, because its dials are decorated with various traceries.
Original design of dials and extraordinary cases will leave cold none of wristwatch connoisseurs. All Mica watches are equipped with quartz movements providing precision and reliability. Every model by Mica is the evidence of its owner's individuality who may be sure not only in the time precision but also in durability even at extraordinary situations.
Mica products can be purchased to order at the company's official website.