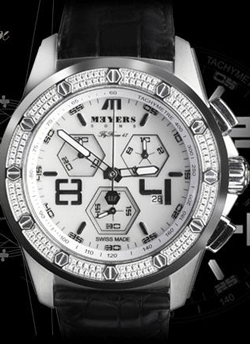 The Swiss Meyers watch company has recently appeared at the watch market. Its first products immediately drew attention both eminent companies and lovers of splendid new models de luxe. Taking into account the wishes and requirements of clients, the brand produces exclusive models in a single exemplar, as a result every piece turns into a small masterpiece combining junction of watch and jewelry industries. To assemble watches the company only uses first-class components with the mark "Swiss-made", fine precious metals and pure brilliants. It is not for nothing that the company for its motto has chosen the following words: "This watch is more than a jewelry masterpiece, this masterpiece is more than a watch".
Watches are equipped with quartz or
mechanical Swiss-made movements and encrusted with brilliants, sapphires, emeralds and southern-sea pearls turning them into works of jewelry. The American high society fell in love with Meyers timepieces much. For example, Madonna adores to wear these watches both at parties and everyday life. And a famous French millionaire, Mouna Ayoub, started collaborating with the company and offered her own design ideas.
In 2001 the company was headed by a creative designer Jean-Christophe Narkvin who projected the mechanism of a rotating bezel. Due to this innovation the company has set the leading position at the watch market. Watches of the first collection for the LadyDiamond line named in honor of Mouna Ayoub, are equipped with the quartz Swiss-made movement ETA. Their dials are decorated by hand, cases are made of either pure gold or the alloy of gold with stainless steel. The second Samba collection launched in 2003, also has a rotating bezel but the models look peculiar and draw attention to their look due to a new unusual form: a dial and a bezel are encrusted with brilliants, external edges are decorated with small hanging figures made of precious stones and gold. To create the next LadyBeach collection, encrustations with numerous brilliants and precious stones are also used. Later, the first collection of watches for men was launched under the name FlyRacer. The collection was a great success among followers of luxury style.
All Meyers collection feature perfect lines, quality materials and impeccable taste. Meyers timepieces are available through the company's official representatives in The USA, Europe, China and Taiwan.