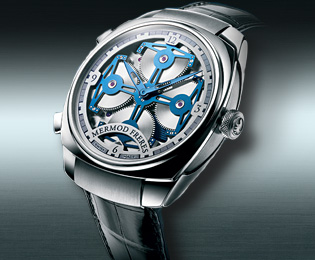 The legendary old Swiss watch company Mermod Freres was founded in 1816, in Sainte-Croix city, Switzerland. Last eighty years the company was frozen, until the Reuge Music brand bought it up and recommenced the production of proprietary music boxes and watches complicated with music movements.
The first result of the company's rebirth is the Primo 4 model designed on the basis of the self winding movement MF-101 that consists of the 577 smallest components including the music movement. Its power-reserve is 40 hours and frequency of 28,800 vph. The main innovation is 4 music discs which are separately programmed to play a melody chosen at an owner's will. Each disc has its own barrel separated from the movement.
Style of the décor of 4 discs is chosen by a customer. A choice and play melody button is located at 7 o'clock position. The discs themselves are seen through the sapphire glass. Each disc plays about 10 seconds. The melodies are Mozart's Magic Flute, Vivaldi's Four Seasons, Brahms' Hungarian Dances and Pachelbe's Canon. The model is a limited edition of 50 pieces with pink, white and yellow gold cases. The strap is made of alligator genuine leather and has a gold buckle. At a customer's will, hands can be made of polished gold and forged steel. A package is made of ebonite. The watch is available at the company's official dealers at a price of 104,000 CHF.