The Japanese Maywa Denki company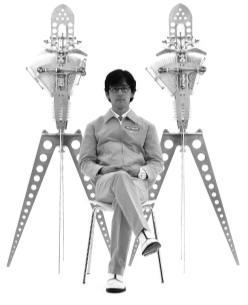 was founded in 1970 by the constructor Sakaichi Òîsà who worked at engineering of hydroplanes in the research centre for many years.
The Maywa Denki company, having collaborated with the Toshiba and Matsushita Electric companies at the dawn of its establishment, specialized in manufacturing vacuum pipes. In 1979 the company was on the brink of bankruptcy caused by so-called "Oil Shock" and later was closed.
Sons of Sakaichi Òîsà restored the family business in 1993. The new Maywa Denki company was run by the president Masamichi Tosa and the vice-president Nobumichi Tosa. The new company management focused its attention on designing and producing electrical goods, robot-toys, audio equipment and so on. The company's inventors experiment with different objects thanks to which music can be "created"
In 2011 the Japanese company launched wristwatches with an extraordinary dial in a form of a rotary phone. The masters were inspired by rotary phones that were in every home not very long ago. Looking at these watches you can have a rather logical question such as how to read the time if there are only numerals from 0 to 9 on the dial? Pay attention to the central part of the dial. Does it look like a loudspeaker? That's about the size of it! The Japanese remained original in everything and made these watches to inform of time in a form of a voice signal. To learn the exact time you should dial number 117.
The Maywa Denki timepieces are presented in four colours: black, white, red and turquoise for women.