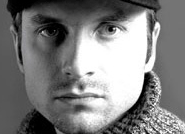 Maxim Nazarov is a talented architect,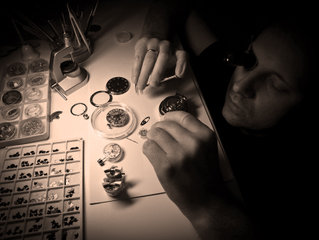 artist and designer who could realize his dream. He always said that he was dreaming to create a watch movement with an absolutely new time indication.
Maxim was born in 1973, in Voronezh, Russia. After graduating from the Belorussian Academy of Art, the design faculty, then he moved to Moscow and started to realize a number of his projects. Despite that Nazarov was not born in Switzerland and was not an inherited watchmaker, he could manage to design and launch exclusive models of watches. Maxim himself noticed that he did not sell the legend of the watch brand with the 200-year history but he sold emotions. The artist prefers mechanical watches only and he equips his models with mechanical movements, because Maxim considers that the master of time can be the man that has a mechanical watch, and time depends on an owner. In the event of a quartz watch, time belongs to a battery stopping a movement when an owner does not expect it at all. It cannot be called "your time". Besides, nowadays, the watch market is rich in various wristwatches equipped with quartz, automatic or mechanical movements. Therefore, it is necessary to create such models that will attract to themselves not only with their perfect design but also high quality. Only elite watches are an expensive accessory and jewelry adornment, and more complicated a watch movement is than more highly it will be appreciated. According to Maxim, the watch art is a synthesis of design, components of jewellry and the aircraft industry, and the interest in mechanical watches was, is and will be existing all the time.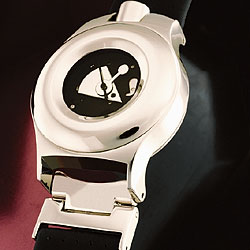 Nazarov launched his first model in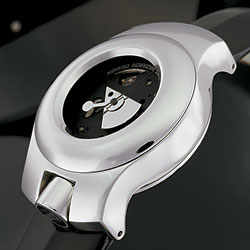 2000. It should be noticed that no one has made an author's watch in a single exemplar, because it is a very long and difficult work requiring big money costs and much time. You know that to create only one movement, 175 smallest components are necessary, and an assemble itself consists of 1000 operations. Of course, it was difficult for Maxim, because in Russia there is nowhere to study the watchmaking art, so the designer works on his own not missing every professional event from old master-watchmakers. The very thought that you was creating an exceptional work, gave him creative powers and an incentive not to stop but to move on without paying attention to everything. Nazarov says that the watch art is like an ascent at the top of creative ambitions. All his past occupations – architecture, interior designing and scenography served as steps to achieve the object.
A year later, in 2001, the talented designer performed his first order of twelve gold watches to Easter holiday for the Moscow Patriarchy. Just that moment became one of the most significant for Maxim, because he began feeling himself as an "expensive designer". This inspired him to create a revolutionary collection under the name of NO.Y (or "other") which was launched in 2002. Models of this line, made of steel and titanium, were the embodiment of a new fashion trend – the young generation's interest to the Soviet epoch.
The next unique model, made by Maxim, is the Supremus ¹60 watch.
This model is designed under the influence of the creative work of an artist-constructivist A. Aikin, one of the pioneers of the Soviet design. Admissions between a decorative plate and a minute hand do not exceed 0.75 mm. Much time and patience are required to set a hand without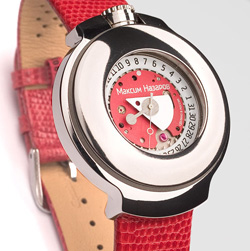 a warp. In fact accuracy of watch stroke depends on it. The polished titanium case of the model has a 45 mm diameter and a 18 mm thickness. The dial is covered with a sapphire glass. The titanium crown is located at 12 o'clock position. The model is attached with the leather strap with a simple buckle. The watch is equipped with the automatic movement calibre 2416B with an hour and minute functions. The unusual display of time is carried out with the help of the hour hand, consisting of two parts of different length and moving along two semicircular scales. This model was on the list of the best watches of the year as a result of the contest organized by the Watch Media Publishing House.
In 2004, for the first time, Nazarov became a participant in the international watch exhibition which took place in Switzerland, BaselWorld. And in 2005, he designed and launched his new Taiga model in a limited edition of 45 items. As distinct from traditional models, the case of the watch was made of the integral titanium rod polished by hand. The popular Supremus model was also supplemented with original resolutions.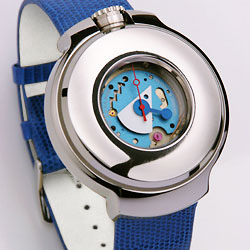 Continuing the traditions of the great Russian art of the 1920th, the designer presented his new masterpiece – the avant-garde watch including some elements of the art-nouveau style. The complex combination of colours, forms and textures have become a recognizable and invariable style of the master.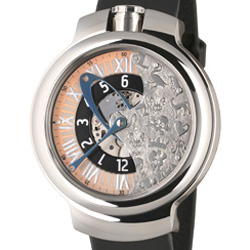 Upper and back parts of a case are decorated with brilliants, a dial is made of gold and engraving by hand. The new Supremus model charms with its wonderful beauty and harmonicity.
Maxim shared his experience with students of the British Higher School. He spoke about the internal order of watches and noticed that motion of only one hand was provided by seven wheels transferring energy one another. He described all stages of producing watches in detail: from creation of a case, its polishing to producing a strap that was so important and matched style of a watch but also must be durable if the material was chosen correctly. It is naturally that great attention must be payed to the watch heart – movement, because precision and reliability of every model depend on it.
Uniqueness, exclusive work in a single exemplar, recognizable design, nontraditional time indication, half-open dials, unusual hand forms are watches from Maxim Nazarov which have been appreciated both lovers of wristwatches and professionals.
Maxim Nazarov's timepieces are available at boutiques in Russia.