The Magrette watch company's story starts in Auckland, New Zealand in the 90s. The founder is Dion Wynyard McAsey who since his childhood has liked and collected wristwatches. All began with the gift that at the age of seven he received from his mother. It was a watch. For life he remembered this timepiece with an automatic movement, a white dial and a rubber strap. After that gift Dion studied the history of a watch movement and the chronology of model output, and together with his younger brother who carried on his hand 4 to 6 timepieces trying to synchronize them, collected watches. Then Dion's first watch collection was devoted to the brother's memory having perished at the age of 31.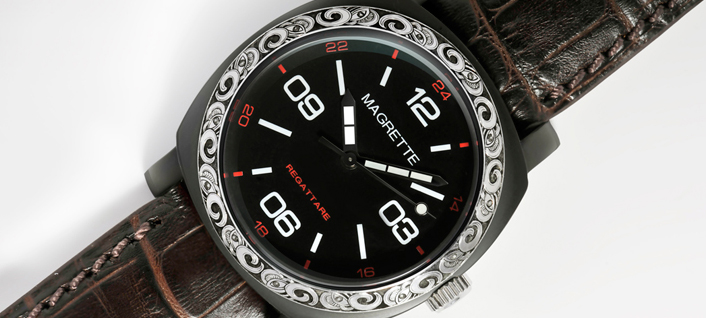 Magrette watch
Before created his own collection, he had run an agency engaged in the watch market. He thought over and over about his own line of timepieces. The line must have its own philosophy, style and tempting simplicity, and be always actual. Well, the mysterious and alluring brand name Magrette appeared.
The company's logo is not chosen by chance. It has the brand's philosophy. The logo combines solidity and defence being provided by the shield and the koru symbol. The koru symbolizes the light and striving for perfection. It is the national sign of the traditional New Zealand culture.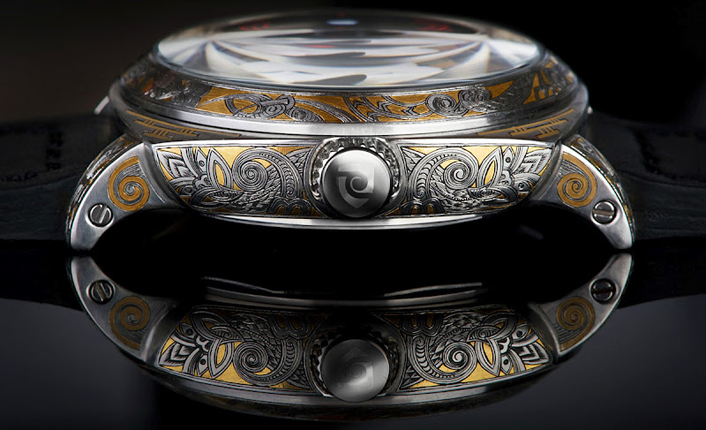 Magrette watch
The design of watches is very interesting a little bit touching the Italian one. The Marcus Chronograph watch was the first Doin's model. It was sold immediately. The success inspired Dion to create the second model with a Vintage movement. Then he decided to make other models with decorated cases, that feature solidity and installed movements.
The Regattare is a unique model of classical style. A case is made of polished steel. A black dial with luminescent hands and hour marks is covered with a double domed sapphire crystal. The model has an internal rotating bezel. A strap is made of genuine leather of black colour, an additional one of rubber. The watch is water-resistant to 500 metres. A movement is automatic Japanese-made on 21 precious stones. It is the limited edition of 2011 pieces.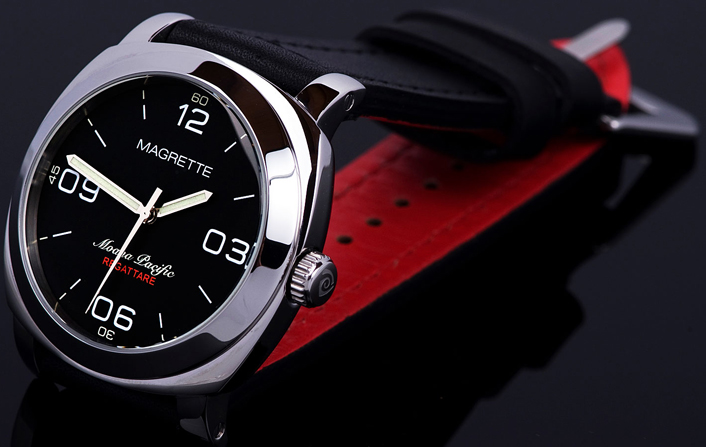 Magrette Regattare watch
The Kia Kaha model means "to be strong" in English. Working at this watch, Dion wanted to create a model symbolizing manhood and power. The God Tane, a God of forest and birds in the Polynesian mythology, personifies power. And the master has chosen this name for his new timepiece. A 44 mm stainless steel case has a black PVD coating. A back case is made of polished stainless steel engraved by hand. Thanks to luminescent hands and hour marks, you can read time in the absolute dark. A black dial is covered with a sapphire crystal. A strap is made of genuine leather. The watch is water-resistant to 50 metres. A movement is mechanical Swiss-made on 25 precious stones. It is the limited edition of 25 pieces.
| | |
| --- | --- |
| Magrette Kia kaha watch | |
Every Magrette timepiece is original for its exclusive design, a case engraving by hand, a bezel and a back case. The Baselworld timepiece is one of a kind having been presented at the international watch exhibition Baselworld.
Magrette timepieces are characterized as mysterious, exclusive and stylish watches.
Watches are available at the company's official dealers and to order on the official company's website.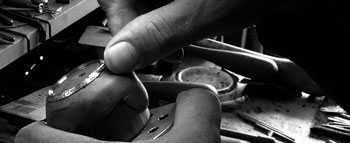 Magrette watch creating