The Swiss watch company Magalex was established by Paul Virgile Mathez-Rossel in 1989. The company's headquarters is based in Tramelan, Switzerland.
This company was first listed in 1888 as Virgile Mathey and later, in 1919, it was renamed in Paul Virgile Mathez-Rossel /PVM/.
In 2004, because of retiring, Mr. Fred Virgile Mathez sold the Vilor and magalex brands to Mr. Gurdeep Singh Kundan.
At this stage the company manufactures high-quality models of watches launched in the limited edition.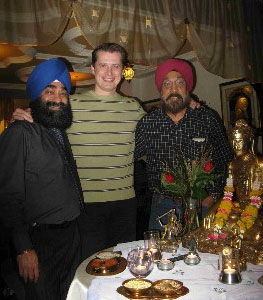 Anoop Singh, Gastronomist, Resaurant Sitara and Mayura in Konstanz with Peter Colat and Gurdeep Singh Kundan
The Alarm 5008 model is of the 50-60s' vintage style. It is based on the Automatic Swiss-made movement AS5008 decorated by hand and designed the famous master Anton Schild. A round case with graceful smooth lines is made of stainless steel 316 L. A back case and a dial is covered with a sapphire crystal with anti-reflective coating. A date aperture is situated between 3 and 4 o'clock positions. Hands and marks are luminescent coated. The model has an alarm function. It is water-resistant to 300 meters. A strap is made of genuine leather of brown colour. The model is accompanied with a luxurious and convenient wooden box and an additional silicone strap.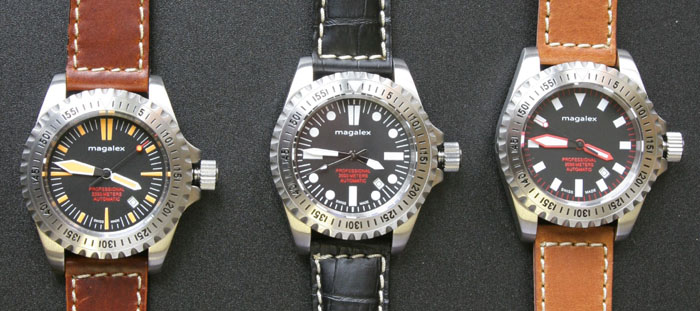 Magalex watches
The Divers 2000 meters model is a stylish diving watch based on the automatic Swiss-made movement ETA 2824-2. A rotating bezel is equipped with a diving scale. A black dial is covered with a 4.36 mm sapphire crystal. Hands and marks are luminescent of yellow colour coated. A case is made of surgical stainless steel. Hands and a case has antimagnetic coating. On the screwed-into back case the company's logo is located. A crown is relief with the letter m. The model is water-resistant 2000 metres. A strap is made of water-proof genuine leather. The model is accompanied with a wooden box and a spare silicone strap. The technical features of the model were checked by the Swiss diver Peter Colet who set a world record to stop breathing underwater during 19 minutes 21 seconds. The record was noted down in the Guinness Book of Records.
Magalex watches are available through dealers whose contact information is on the company's official website.