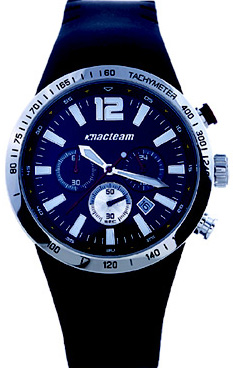 MacTeam watch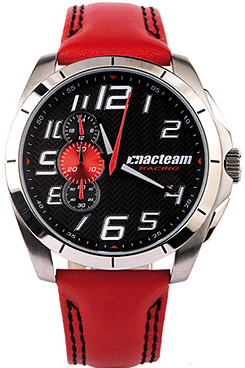 is rather young Italian watch brand which has already became quite popular not only in Italy, but also in the US, Japan and many European countries. All the watch models have unusual fashionable design is and their quality is quite high.
MacTeam watch – is a harmonious composition of luxury, originality, extraordinary shapes and innovations. MacTeam watch are released by six models (Ful color, Driver, Racing, Gum, Shine & Shade and LCD) each of which is characterized by its unique style and construction peculiarities.
MacTeam target group is mainly sport enthusiasts and adventure holiday lovers. Most watches are made in sport style. However among wide assortment it is possible to find classic models as well. These are models which cases are round, shapes are smooth and decoration is laconic. All MacTeam watch have massive cases which corresponds to the latest fashion trends.
Functional Accessorizes MacTeam are made of high quality materials. Cases are made of stainless steel and plastic. For making cases light and firm a combination of two materials is used. Dial is protected by mineral crystal, firmness of which is from 500 to 800 units by a Vicker's scale. Cases and dials of some models can be decorated by Swarovski crystals, which make them shine. Ever model is supplied with a strap made of genuine leather, real rubber or a textile. There are also models which bracelets are made of steel. MacTeam watches are produced by famous Italian company Altanus S.P.A.