The MC watch company was established in the centre of the watchmaking industry in Pforzheim, Germany. The company's aim was to create fashion watches as just watches are one of fashion accessories. MC wristwatches immediately set place at the watch market thanks to their light design giving positive energy to their owners. Besides, taking into consideration that automatic watches had recently become more popular, the MC company launched the collection of watches equipped with an automatic movement. And the company did not forget about a price, because not all watch companies offer timepieces with an automatic movement. But the German brand offers such watches at quite affordable prices. The brand's designers do not stop working at already created models, however, they are making new ones and combining in them fresh trends of fashion. As a result, new watch lines are being launching. Thanks to original shapes of cases, fresh and rich colours none of models will be left unnoticed. They will underline vivid individuality and delicate taste of their owners.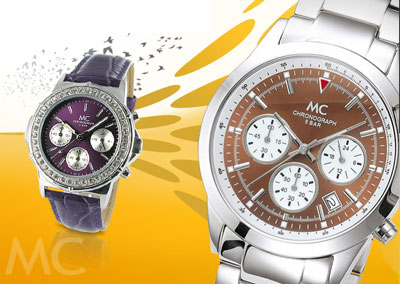 MC watches
The MC company also produces sports watches. Especially for sports lovers it has launched the Racing Star collection. The small collection includes sports timepieces with stainless steel cases and carbonic dials equipped with special functions that are so necessary for sportsmen. Their package in a form of a racing tyre is also interesting. In recent years the company has become one of successful watch brands. A rich range of watch collections both for men and women will leave cold no one. Cases are made of materials of silver or gold colour and decorated with Swarovski crystals. Hour markings in a form of Arabic numerals or lines are done on the silver or gold dials decorated with jewels. On the dials of some models there are pictures of Swarovski crystals in a form of stars and hearts. Other models have a date aperture at 3 o'clock position. Straps are made of genuine leather. There are also watches with steel bracelets. Ladies' models are equipped with quartz movements.
Men's watches are made of stainless steel with leather straps and stainless steel bracelets. The MC company also produces chronographs being water-resistant to 50 metres. Models have quartz movements. The brand has also launched watches with automatic movements. Their cases are made of stainless steel with silver. Leather straps are of different colours. Models are water-resistant to 30 metres. Within this collection there are also models with steel bracelets. White, black and goldish dials are marked with Roman or Arabic numerals and have three hands. The MC company makes watches for children. Many-coloured models with pictures of hearts, fishes, stars or gloves with aluminium cases have quartz movements. In recent years the company has opened its salons in many countries. You can buy watches both in the brand's stores and official website to order.