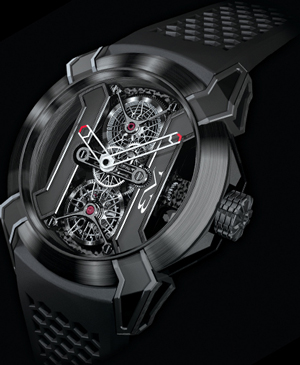 Benjamin Muller was born in 1975 in Besancon located in the southeast of France in the Jura mountains close to the Swiss border. He grew in a watchmaker's family, and his father, John Muller, founded his own watch company in 1980, at the same time he designed models for well-known brands and jewellery producers. In 2002 Benjamin joined the family business like a designer and producer of watches and jewellery items.
Benjamin Muller is a French designer making watches of high quality. Many years, having been spent by him in the watch industry, helped him to learn to control the whole work from design to assemble. Having worked as a watchmaker and jeweller over ten years, he decided to open his own workshop and started designing and launching models under his own brand – M. Benjamin. His created watch was a reflection of his endless fantasy, interest and love to car and extreme sports, his original design ideas and vision of contemporary luxurious technologies. All Benjamin's watches are exclusive, first reflecting individuality. All M. Benjamin watches are launched in a limited edition.
The brand's first collection,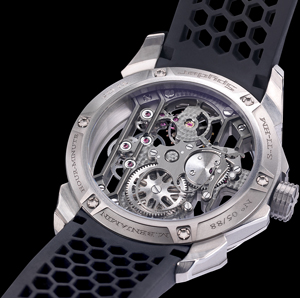 launched under the name Spyder, is a tribute to beauty of cars and watchmaking. Spyder is a sports open-face two-seater with a central installed engine. The collection reproduces the design of this car: a complicated construction of a case with clear lines without visible screws like a car body.
The collection includes models with polished titanium cases of 5 class and 18K white gold. Some cases are decorated with 118 brilliants. Original dials with an open movement and a tourbillon are protected by a sapphire glass with an anti-reflective coating on both sides. The movement is finished like the case. Straps are made of rubber of leather. Spyder watches are outfitted with in-house movement with a tourbillon designed by Benjamin Muller. The calibre with the escapement of Ancre de côté style, are on 19 precious stones and has a frequency of 21,600 vph, a 72 hours power-reserve and functions – hours, minutes and seconds. Some models are equipped with another movements also designed by Benjamin Muller. This movement with a tourbillon is on 21 stones and has a frequency of 28,800 vph and a 48 hours power-reserve.
An original watch of the Spyder line will be an integral part of collections of connoisseurs of wristwatches and collectors.