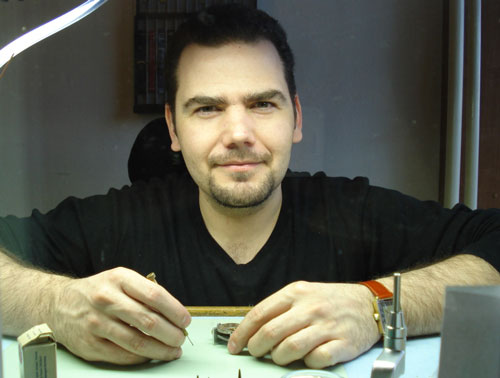 The Czech Ludek Seryn watch company was founded by Ludek Seryn who was born in 1978, in Moravia, the historic region of the Czech Republic.
Ludek was charmed by wristwatches in such a way that he decided to be the one from his family to choose an occupation of a watchmaker as none of his relatives and members of the family was a watchmaker. During 1996 to 1999 he studied at J. Ondráček, a Czech watchmaker, who showed Ludek an interesting and mysterious world of timepieces. As a result, he acquired general knowledge for materials, from which watches are being made, about their treatment, right combination with another materials and another secrets of watchmaking art.
In 2002, in Mohelnic located in Olomouc, the Czech Republic, Ludek opened his own repair shop where he also produced gold jewelry. Then the talented watchmaker started making cases relying on his own experience. He makes them without any special equipment, because he believes that such approach is right and the most important part of a watchmaker's job. Just that very fact Ludek differs from different watchmakers. His aim was always to create unique models by his own hands without any technologies and equipment. The foregoing attracts people to his watches as they keep the master's warmth.
While creating another timepiece, the master always images before him a future prospective owner, as in Ludek's opinion, models can not be repeated, they must be one of a kind and certainly differ from one another. Thus, watches are made according to special technology peculiar to the master, and they can satisfy all requirements of future owners. Ludek wants people to treat his watches like additional accessories and "helpers", thanks to their useful functions, and not like just meters of time.
Another important fact that the master always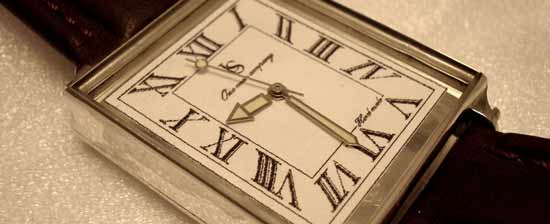 takes into account right combination of colour and form. While assembling by hands, it is very necessary to be attentive to install every component properly.
Ludek makes watches according to all standards of watchmaking. Production consists of the following lines: the 0 / 000, 1 / 000 and 2 / 000 lines of gold watches, the 3 / 000, 4 / 000 and 5 / 000 lines of 925 hallmark silver watches. Watches with gold or silver cases have dials of different colours with the company's logo on them. Dials have Roman numerals and a second hand. Straps are of different colours.
The Ag Prototyp is the first company's model made of silver and weighing only 8 g. The dial with a hour, a minute and a second hand, is made of paper on which Roman numerals are marked. The model is equipped with a Swiss movement ETA 2824.
All Ludek Seryn watches have a Swiss movement ÅÒÀ 2824 with frequency of 28,000 h.
Ludek collaborates with future owners of timepieces creating models to their tastes and wishes. Watches are available to order at the company's official website.