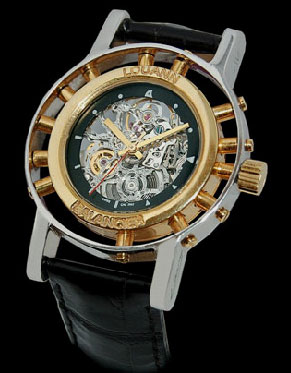 Loukas Mainas was born in Thessaloniki, Greece, in 1972. He graduated Anatolia College in Thessaloniki. He also studied Industrial Design in Greece and London. In 2003, he established Loukas Mainas jewelry brand and Louann watch brand.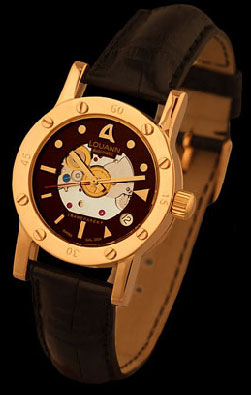 He designs and produces handmade jewelry using such high quality and expensive materials as silver 925 and gold 18K. He also produced the first handmade Greek LOUANN TRANSPARENT wristwatch under the Louann brand. This is a rather original chronometer which, no doubt, will attract attention of lovers of luxury and perfect timing. The case is made of one piece of 18K gold of three colours: white, pink and yellow. The movement ETA 2824-2, especially designed for the Louann company, is Swiss made with rhodium sputtering. The golden dial and the screwed back case are covered with durable sapphire glass. The watch is available with an alligator leather strap or a golden bracelet of the case colour. The water-resistance is up to 50 meters. It is the limited edition of 150 wristwatches for men and 150 wristwatches for women, which are encrusted with four brilliants at 10, 11, 1 and 2 o'clock positions or have a brilliant bezel. The first timepiece was sold in 2004.
In 2005, Loukas Mainas launched the new limited addition to the LOUANN TRANSPARENT model made of silver 925. His resolution by the model was well-grounded, because clients preferred more affordable wristwatches. Only 100 silver timepieces were presented.
In November, 2006, the second model of the BALANCIER wristwatches was presented. The model is completely handmade produced from 18K gold. The colour combination is white and yellow, white and pink, completely white, completely pink and so on. The model is equipped with a skeletonized Swiss movement ETA 2892A2. Only 300 timepieces have been launched – 150 ones with a skeletonized dial and another 150 with a closed dial.
By right, Louann wristwatches can be considered to be unique timepieces, because only some people of our planet will be lucky owners of these luxurious chronometers. To purchase them and to join the ranks of possessors it is necessary to hurry up.