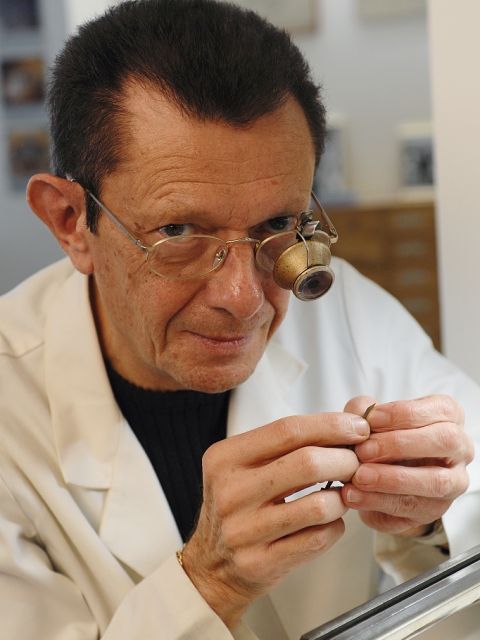 Dominique Loiseau is a famous watchmaker having worked in the watch industry over 30 years and as an artisan and a teacher at the International Museum of Watchmaking located in La Chaux-de-Fonds. Established by himself company Dominique Loiseau produces exclusive watches. During many years, Loiseau was restoring old watches and creating exclusive famous models like pocket watches Renaissance and Capriccio, the Rose des Temps clock and the six Montres de Sables for collectors. Furthermore, he is a creator of the famous Blancpain 1735 wristwatch. Dominique is clearly an authentic inventor of exceptional pocket and wrist watches, a master watchmaker who has created timepieces of every type of complexity. Models are in limited editions.
Having worked on different watches over many years, Loiseau came to the conclusion that watches must not contain unnecessary components even in a case that they would be with complicated functions. Today-made ultracomplicated watches visually seem to be piled up with numerous hands and hour marks which are located on the dial in a wrong way, as a result they look unattractively and turn watches into an unintelligible object that loses its basic meaning. By that reason he makes watches following some obligatory conceptions. But watches must be complicated with various useful functions that will be rather necessary for an owner. It is right to separate a function from another by the use of several dials every of which has its own functions and complications. In a case of several dials located on the main one so many hands are necessary. It concerns models with two or more time zones.
All above-listed helped the master to create the new unique 1f4 Grande Sonnerie Complication model. Loiseau worked on this model for a period of 6 years in his own workshop located by the shores of the Geneva Lake. The hand-made watch consists of 1000 components. It is so complicated that the master launches only two units a year.
Subtle balance between classicism and modernism, the finely exterior proportions of 1f4 dials reflect its sturdy character and remind of the source of its own name: the famous Henry Edward Bird chess opening.
What chess and this watch have in common, the master explains in such a way as the creation and further operation of a complicated mechanism can be only compared with chess games so long as the mechanism operation and playing chess is a creative process. Just that very creative approach helped Loiseau to create an unique model equipped with numerous functions installed onto two dials. 1f4 watch is perfectly on a wrist thanks to an exceptional size: a 45.2 mm diameter and a 16.64 mm thickness. The case is made of platinum, but can be crafted to order in 18 carat white, yellow and rose gold. The round case is surrounde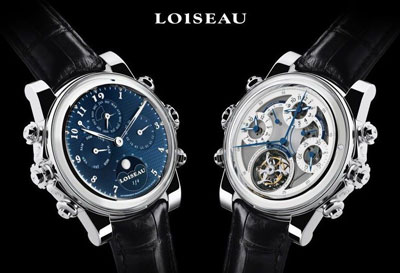 d doubly with winders and several regulating buttons. The unique patented mechanical system allows to turn secretly double-coloured Classical and Chronograph dials. The first dark-blue one has the following functions: a date calendar at "12" o'clock position, a moonphase indicator at "6", a date indicator at "3", a week day indicator at "9" and a power-reserve indicator for the striking mechanism between "10" and "11". The white latter is skeletonised. The main dial has a local time indicator at "12" o'clock position, a second time zone indicator at "9", a 30-minute chronograph counter at "3", seconds, days and nights on the tourbillion carriage at "6", an equation of time between "10" and "11" and a power reserve indicator without the striking mechanism between "1" and "2". In general, the model has 16 hands: 7 hands on the first dial and 9 hands on the second dial.
The 1f4 watch is equipped with automatic movement of vibration frequency of 21,600 vph. The movement is on 37 precious stones and of more than 891 parts. The movement with a balance spring and 2 gold rotors has the following functions: a local hours and minutes indication, a leap year indication, month, day of week, date moonphase indications, a power-reserve indication for the striking mechanism are on the main blue dial, and also local time (hours and minutes), seconds (on the tourbilion cage), a 2nd time zone (GMT), day and night (an indicator below the tourbillion carriage), equation of time, a 30-minute and second chronograph counter on the skeletonised dial.
The watch has a black alligator leather strap with a gold or platinum buckle, water-resistance to 30 metres.
The unique 1f4 Grande Sonnerie Complication model of Loiseau is the world première and has presented at the BaselWorld 2011 exhibition.
The watch is available to order at the Loiseau official site.