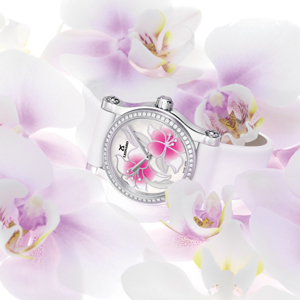 The Leonard watch brand is the subsidiary company of the Leonard Parisian fashion house. The company was founded in 2001 and has its headquarters in Geneva. Its wristwatches are being made in the vanguard style. Products personify the dynamic modern design and have an original look together with aesthetic perfection that do not leave admirers cold of watchmaking art.
The Sphère and Screen collections feature particular geometrical forms. Round and right-angled cases are made of quality stainless steel or yellow gold and encrusted with precious stones. Models are based on mechanical movements with self-winding, and quartz movements made in Switzerland. While producing watches, the company uses different high-technological materials including rubber. Models are water-resistant to 50 meters and under warranty for a period of 2 years.
The Atom Orchid collection personifies the ideal combination of watch perfection with creative personality of an artist representing Parisian world of high fashion. On a woman's wrist watche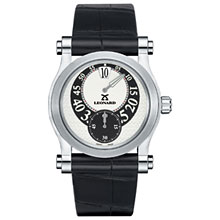 s will be looking nice. The steel case is encrusted with 58 brilliants weighing 0,9K. The high-precise movement provides operation of these amazing models. The pink-coloured dial is decorated with flowers of orchid and encrusted with 8 brilliants. Watches are water-resistant to 50 meters. The elegant strap is made of natural crocodile leather and have the steel buckle. There are also variants of straps made of rubber and pink satin.
Leonard also produces watches with complications. The dial of the Atom Jumping Hours model has a jumping hour in the aperture of big date located at 12 o'clock position and is covered with sapphire glass. The power-reserve is 44 hours. The round stainless steel case has 38 mm diameter. The black crocodile strap has a steel buckle. The model has the universal system of strap changing. Just pushing the button situated at the end of nubs, a leather strap can be replaced by a steel bracelet.
Leonard watches can serve as elegant accessories and complete your unique image. A person for who style and luxury is the same, can buy Leonard watches and flaunt them showing thus his refined taste.