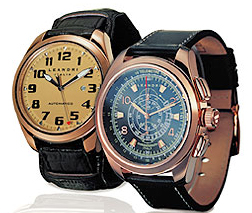 The Italian Leandri watches feature sporting modern design which perfectly emphasizes individu
ality and sense of humor of young active people. The Leandri watches is the personification of spirit of the times.
When the Italian fashion was in its prime, two brothers, Luigi and Armando Leandri founded the Leandri company and arranged watchmaking according to many prestigious brands. Their main goal was to offer new models distinguishing themselves in modern design. Leandri brothers created prototyped of Italian watches with cases of rather original forms as square, oval and right-angled. Watches are made of such incompatible materials as leather and silver. A case is of an ergonomic design, watches are accessories for everyday life. Probably, all this makes the Italian Leandri watches so original and popular.
At present the young watchmaking company is the independent factory of perfect production organization. Watches for men are mainly made of steel. Among models there are also chronographs with automatic movement, being water-resistance, and ones with cases made of 5 micron rose gold. The Leandri wristwatches feature fine quality-price ratio, their modern design with finely performed details.
The Italian Leandri watches are an integral part of modern fashions.