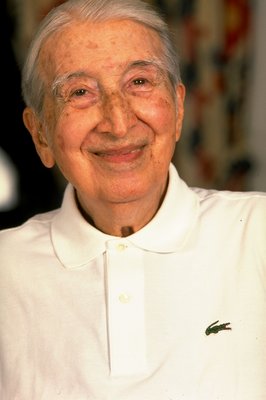 In 1933, the famous French tennis player Rene Lacoste after his leaving the big-time sport, together with Andre Gillier, the owner of the large French knitwear manufacturing firm, founded his own brand called «La Societe Chemise Lacoste». The company produced shirts that Lacoste had designed himself and worn on the tennis courts. In 1926 he was wearing a knitted short-sleeved shirt made by himself at the United States Open Tennis Championship. On the shir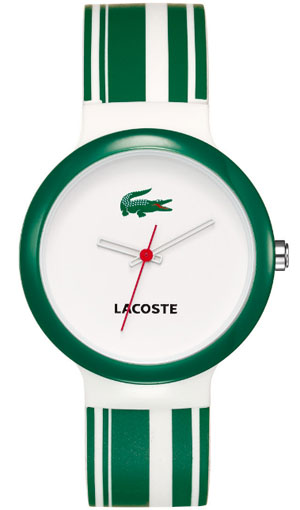 t there was an embroidered crocodile, the emblem of the sportsman. In addition to traditional tennis shirts, the company started making soon shirts for golf and sailing and introduced colour ones in 1951. From 1952 Lacoste company began to export its goods to the USA under the motto "Lacoste – the status symbol of the competent sportsman ".
But only in the 1970s, the company achieved its great success due to making, besides its popular shirts, its own perfumes, T-shirts, wristwatches and various leather products. In Moscow Lacoste opened its brand boutique in the middle of the 1990s.
In 2005, at once, the company presented several models of wristwatches. For example, the model Sportwear 6350L23 was equipped with the quartz movement Miyota. The case of the model was made from steel of high quality. The dial was covered with mineral glass, and the strap was made from rubber of different colours. Water-resistance was up to 30 metres. The new model 6200L was also presented. It was the rather simple and elegant quartz watches. The case of the model 316L was made from polished steel. The strap was made from vivid pink nubuk. The model 1300G was quartz watches with an hour, a minute and a second hands. The case was made from polished steel, hands and indexes was covered with luminescent coating. The strap was made from silicone.
In 2005 as well, the company introduced the new model of mechanical self winding watches at the world watch market. The rotor of this model wass decorated with Cotes de Geneve, the case was made from ste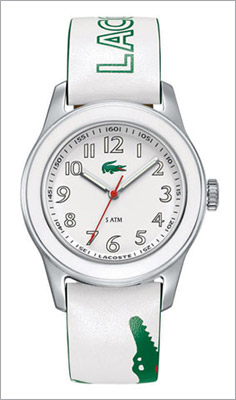 el. The dial and the case back was covered with sapphire glass. Hands and indexes were covered with luminescent coating. On the case back there was an individual number as only 1933, the date of the company's foundation, models had been made. The strap of these wristwatches was made from crocodile leather.
In 2009, the company launched the new watch line only devoted to tennis called ADVANTAGE. The watches had a rather plain but elegant style. The case was made from polished steel, the dial – white enamel and the strap - crocodile leather.
At present the Lacoste brand has great success all over the world and also a sponsor of many sporting events.
Lacoste wristwatches will perfectly fit active people and lovers for sports. Professional sportsmen will also estimate at watches' true worth.
To buy the Lacoste watch and to put it on the wrist means to be completely filled with a sense of sports and competition.