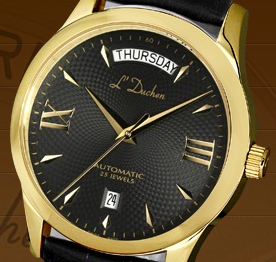 The history of the L'Duchen watch brand is the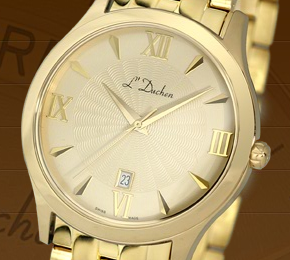 story of the legendary generation of watchmakers of the French origin. Talent of this masters' family staggered the European aristocracy's imagination. Unusual art and workmanship of these jewellers and watchmakers obtained the wide recognition and respect among representatives of the French aristocracy of the 12th - 13th centuries. However, the Duchen family was not able to keep the high position at the watch market, because of the production of cheap watch brands that after the First World War at once filled the stores with their watches. During the company's long history, the brand was given a lucky chance which had restored Duchen to life at the beginning of the third millennium of the watchmaking industry living.
But talk about everything in order. The Duchen brand's timepieces and jewelry was rather popular in France. During the reign of King Louis XIV or the Sun King, the Duchens' ancestors, jewellers from Blois, were making different brooches and jewelry which were incrusted with popular of that time enamels. The Duchen family is even mentioned in the memoirs of the famous court chronicler Louis de Saint-Simon. At the end of the 12th century the Duchens started making pocket watches and watches – suspensions with a spring drive in the complicated case so-called "étuis " which was born in Blois and became popular in France. Sooner the Duchens' technique was so recognizable that was a distinguished feature of their all products. Unique chronometers with cases formed with two types of combined enamel. The base was a traditional French enamel so-called Limoge enamel that was widely used as coating and decoration of various articles of luxury and church symbols. Masters combined technique of applying of the Limoge enamel with traditional one called "champleve ". This technique was putting of lacquer of various colours into grooves engraved beforehand on the metal surface. Then an enameled product was burnt in the stove after that the surface or dial was covered with a hard and glossy glass glaze. For some time the prepared surface was encrusted with different precious and semiprecious stones, pearls and vegetable and figured ornament. The whole process was so difficult that the production was in single one or made only to order.
The end of the 13th century was the beginning of the skilful watchmaker and jeweller Louis Duchen's work who has become the most outstanding representative of the Duchens. His working period can be truly called the epoch of Louis Duchen. The gold Duchene a Paris pocket watch made by him immediately won popularity among the French aristocracy. But soon Louis with his family left his motherland for Switzerland and settled down close to the Alps. In 1970s Louis with his sons founded his own watch workshop where they made complicated repeater watches under the L'Duchene&Fils brand. These beautiful chronometers were decorated much with pearls and enamel. Pocket watches were accompanied with the box made of tortoise leather that was considered to be a symbol of particular luxury and chic of that time. The master payed very great attention to coating of a dial. In 1809 Louis developed the specific technique for "volume" applying of enamel on a dial which was widely used while making his timepieces. Only manual work and traditional watchmaking business were kept by the masters right up to the beginning of the 20th century. Because, delicate process of making watches and decorating them with enamel, gold, pearls, precious and semiprecious stones was required only handwork. For that reason each Louis's product was unique and one of a kind of a very high price and a privilege of very well-to-do men. But, because of the 20th century's crisis at the watch market having been caused by appearance of cheap timepieces, Duchen watches lost their uniqueness and became available products. For that reason, the sales volume of the Duchen's production sharply decreased and at the beginning of 1930 the company declared itself a bankrupt. The watch factory of more than 300-year history and the richest watch tradition would barely have lost among numerous new mass watch companies if a significant chance had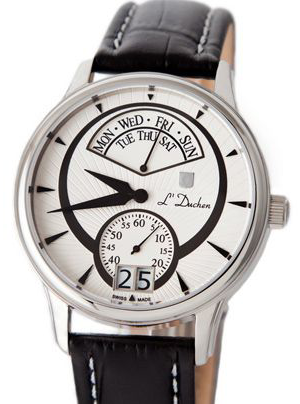 not happened. In 2000 a very rich Frenchman, collecting the antiques and possessing his own wine-making business, Louis Preyot was on business in Dijon and visited a small shop where various ancient things were sold. There he made out a Duchen gold pocket watch that at once struck him by its delicate work and skilful encrustation. It was so notable in particular for him that, despite of the considerable age of a half the century of the watch, the enamel had its original brilliance and subtle engraving even staggered a modern spoilt by different technical things man's imagination. After having bought the watch, he began searching the information about the skilful master who had been made this marvellous timepiece. Deeper he went into the Duchen's history more wanted to restore to life this brand to which such beautiful watch belonged. He studied the modern watchmaking business in detail and soon invested a significant part of his capital in the L'Duchen brand whose watches must meet contemporary standards of quality and be made by latest technologies. Also L'Duchen timepieces must have spirit, style and age-old traditions of masters of Duchen family. So in 2003 the forgotten L'Duchen watches appeared in the watch industry again. Nowadays the L'Duchen factory is located in the picturesque place near the Alps' foot that just serves as the source of inspiration for future masterpieces. As before, while producing watches, quality, refinement and original design are taken into account much. L'Duchen wristwatches are intended for exacting and sophisticated people who can estimate at their true worth these beautiful masterpieces. All L'Duchen timepieces have the following characteristics:
• a case made of stainless steel 316L of very high quality with or without PVD coating
• a dial covered with a sapphire crystal that resistant to scratching
• a dial of volume effect due to guilloche
• a crown with the company's logo monogram
• all straps with a folding clasp "diplaunt " increasing their service life
• warranty for the period of 3 years
Today the L'Duchen company for a short period of time has set its stable position among the leading Swiss watchmakers and is one of the main producers of the high middle-class chronometers. The company's range consists of wristwatches for both men and women also including quartz wristwatches. The timepieces contain the most advanced technologies and elegant classical design that is very actual in the 21th century. The L'Duchen timepieces has nearly transferred spirit and philosophy of the L'Duchene&Fils to the contemporary time.