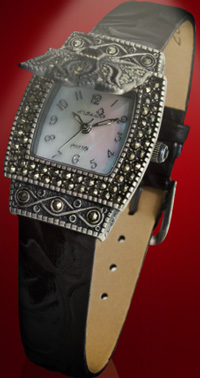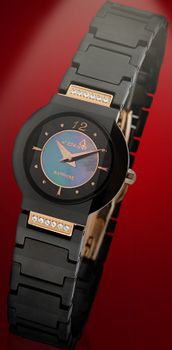 French trade mark "L`Chic"
was founded in 90-s of the XX century. Watches were made by " Vremex" company, which is a part of "Time & Diamànd" corporation which specializes on jewelery and watch producing. It is located in Besançon (France) which is considered to be the center of French horology.
L`Chic issues jewelery watch decorated with fianites, Swarovski crystals and natural pearls. In this case the difference between a functional accessorize and jewelery decoration is fades away. Their gold, silver and nacre dials, mat and polished cases made of stainless steel (some of them rose, yellow and white gilded). Watches are supplied with metal or leather straps made of shockfish or crocodile or python leather.
A wide assortment is presented by some collections: Constance, Enigme, Les sentiments, L'affection, L`Chronographe è L`inspiration.
Enigme is a collection of watches which dials are skeletonized, cases are gilded and straps imitate python leather or other reptile. Some models are decorated with Swarovski crystals.
Les sentiments is a collection of classic models which cases are squared, sound, oval, rectangular and barrel-shaped. The watches are supplied with straps made of real leather and bracelets made of stainless steel.
L'affection is a spectacular collection released by models which cases are silver fibers framed and incrusted by Swarovski crystals. Classic leather straps with chrome coated brass clasps decorate the models.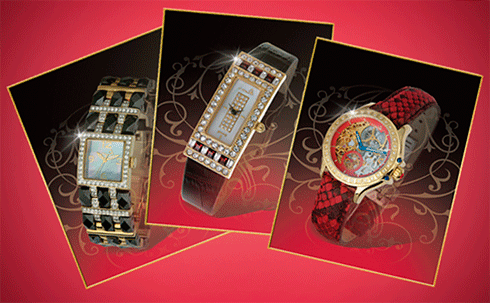 L`Chronographe is a collection of sport watch chronographs with a massive cases, incrusted with strasses and crystals, supplied with real leather straps. This small range is made for women who like sport but do not want to make a compromise with elegance.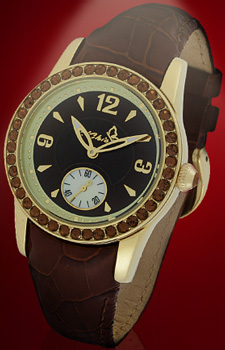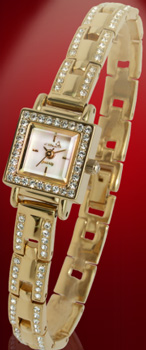 L`inspiration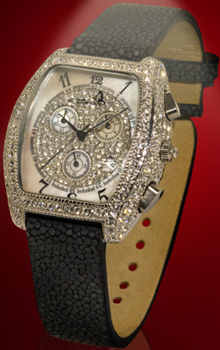 is a collection that deals with classic watch. All the models are supplied with decorative bracelets and refined straps.
in some collection there are models which bracelets are made of twisted golden strings, incrusted with sky-blue crystals or diamond-shaped links incrusted with Swarovski crystals.
Also there are some models, decorated with silver bracelets, links of which imitate petals and are decorated with crystals and strasses.
Constance is a collection of an original design which specific feature is a bracelet built into a case. Wide gilded bracelet is incrusted with big black crystals. The bracelet looks like a continuation of a squared case. These models are all-purpose, they can make an ideal tandem with a business suit or a dress for a special occasion.
L`Chic watch are made in the base of high-quality Japanese movements Miyota. Young French brand in a short period of time achieved a lot of attention and strong position at the World Trade.
Brand promotion is provided with constant collections renewal and close collaboration with leading designers, participation in some prestige shows and distribution network enlargement.