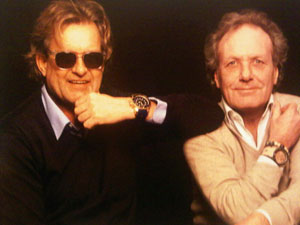 Dutch watch company Kyboe was fou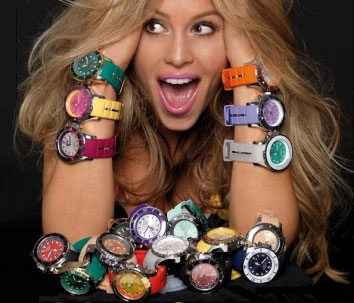 nded in The Hague, the Netherlands, by two bosom friends, designer Kizom Bryuyne and Dick Simons. History of the brand is simple, but at the same time is unusual: the two friends were walking in the exhibition of jewelry and admiring the colorful play of color, elegantly shimmering in the light. It was after visiting the exhibition, they had a great desire to create a lush and colorful wrist watches Kyboe.
When choosing colors for their models, they drew inspiration from the bright colors, the fields which are distributed throughout the Netherlands. Its main goal the company believes the transformation of the gray and fresh and cheerful world in the picturesque holiday, "which is always with you." Kyboe wrist watches are the largest and colorful watches in the world.
A diverse palette of colors and sizes distinguish these massive wrist watches on the background of the global watch industry. Using bright colors in the design let you change the watch every day, depending on your mood. Catchy, catchy, bright - they excite the imagination of even the most demanding connoisseurs of fashion.
Mark produces watches in fashionable unisex with cases in two variants: Giant 55 Giant 48.
Silver Collection consists of the middle button chronograph, designed on the basis of Japanese quartz movement Miyota. Executed in multiple color versions dial and has a three-dimensional space. Rotating bezel with serrated edge is equipped with diving schedule. Hands and time indices are covered with fluorescent substance. Water-resistance of patterns is for 100 yards. Multi-colored straps are made of natural carbon.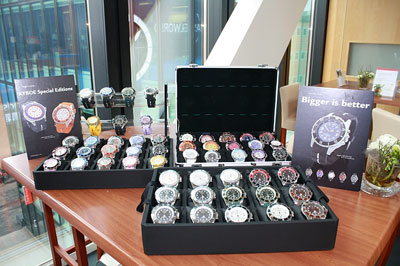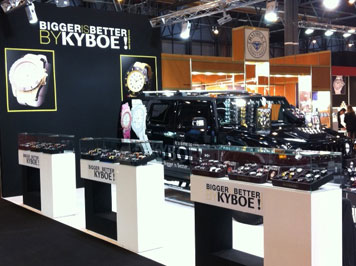 Luxury watches of Kyboe have distinguished line of Ice-colored dials frozen water, cold silver, azure sky and the blue sky. In the creation of these wrist watches is used Japanese movement Miyota. The straps attached to the models are made of carbon fiber color transparent ice.
Gold Series brand includes models with black, blue, emerald green, white and gray dials and housings made of gold and stainless steel.
Performed in an extravagant style sports watches of collections Marine and Black are reliable chronographs designed on the basis of quartz movement and fitted with carbon Myota straps in different colors.
Purchasing watches from Kyboe can be in specialty stores, salons or through a dealer network, details of which are presented on the website of the brand.