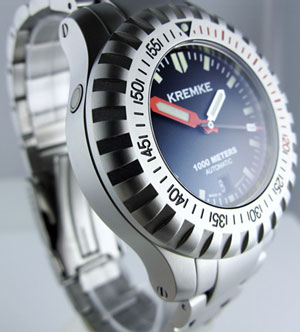 Australian watch brand Kremke Watch Co specializes on production of high technology mechanical wristwatches, assigned for using in extreme conditions. The founder of the company Jan Kremke assumes wristwatches Kremke a combination of active lifestyle with movements functionality. The company guided by the motto "Function follows the form". Philosophy integrated in every project to creation of multifunctional targeted tools, based on the true aesthetic postulates.
Being the first Australian brand, the company is aiming to be leader in production mechanical watches field. Priority for company are decent customer service and their requirements to watches. Combining profound design and technique and production methods, the brand is aiming to produce high class chronographs not only for professionals but also for fans of activities.
Company produced the following wristwatches lines: Subzilla, Subzilla Tactical, Nur-Spec, Nur-Spec Midnight Edition and Valkyrie.
Flagship model Subzilla matches all technical parameters of diver watches. Long list of model characteristics includes super clutch, unidirectional bezel, which get easier chronograph usage, when hands in gloves, and engraved time scale helps to control duration of the dive. Chronograph is equipped with gel valve and manages to withstand till 100 ATM. Case is made from solid block of surgical stainless steel, and inner case with thick sides is made of iron with a soft texture, protecting automatic movement from magnetic effects . Model is based on durable caliber ETA 2824-2 of Swiss production.

The dial is equipped with rather thick sapphire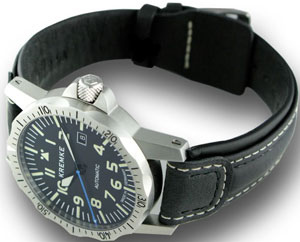 crystal, covered on both sides with reflective covering, providing unique clarity under water. Sapphire crystal is also processed with special substance, preventing it from external damages. Mat black dial is modified with flawless hands and time indexes, which covered with luminescent substance C3 for optimal light in the dark. Minute hand for ensure fast and accurate reading of the past dive time is covered in orange paint.
Chronograph is also equipped with indicator of hour, minute, second, date aperture with fast correction of time and stop-start button. Bracelet of wristwatches Subzilla is made from stainless steel and polished till atlas surface and fixed to case with the help of screws, preventing it accidentally lost.
Every model has its own serial number, engraved on the back case of watches, and crown and buckle of bracelet are decorated with logo of the company.
Brand efforts to keep a finger on the pulse of time and be in course of newest developments in watchmaking sphere. If you felt urgent need in diver's watch or you want to buy pilot's watch, look at wonderful highly durable and reliable chronograph models of the brand Kremke Watch Co. Such choice will not disappoint you.