American Kobold Watch Company was founded in 1998 by Michael Kobol in the city of Pittsburgh, Pennsylvania, USA. Michael Kobold was fond of mechanical watches from 12 years old. Fundamentals of Kobold Watch Company was incorporated 19 years of Michael when he was still a student at Pittsburgh Carnegie Mellon University. It started as a hobby with a 4-page web site on the Internet and start-up capital $ 5,000. After graduation, Michael Kobold seriously engaged in the watch business and hired first employees. They were developing polar watches which will be reliable, accurate and rugged enough to wear them in the most extreme conditions.
| | |
| --- | --- |
| Michael Kobold | Anita Kobold |
In the early wrist watches of the Kobold the company used component parts of Switzerland and Germany. But over time, watch company opens its production lines and plans in 2015 to establish 100% American manufacture. Models of company Kobold is preferred by many professional athletes, actors and musicians. Kobold watches have adopted polar, test pilots, astronauts, divers. All times registered by Kobold watches are issued for members of royal families, famous athletes and show business.
Kobold watches prefer travelers often find themselves in extreme conditions. One of them - British explorer Ranulf Fiennes (Ranulph Fiennes), which entered the Guinness Book of Records as the person who made the longest polar journey. He prefers watch brand Kodold since 1999. Kobold watches are in preference of such famous people as a Hollywood actor James Gandolfini known for playing the Sopranos from the series "The Sopranos."
| | |
| --- | --- |
| James Gandolfini | Kobold |
-PHANTOM - collection of watches Kobold - chronograph, developed in collaboration with the military representatives of the Green Berets. Case and bracelet of this collection are made of stainless steel with PVD coating.
-SPIRIT OF AMERICA - collection of watches Kobold - released to the 10-year anniversary of Kobold Watch Company. This first collection, designed and assembled primarily from components produced in the U.S., so they 100% "American spirit." As part of this collection released limited edition dedicated to the Independence Day, July 4, 2008, the model of Spirit of America Lady Liberty - a copy in hand with painted dial, which shows the head of the statue of liberty, and 10 copies of the printed version. Hand made.
-SOARWAY DIVER Kobold - developed with the participation of the famous explorer Philippe Cousteau (grandson of the legendary Jacques-Yves Cousteau). Luminous hands and hour marks against the dark numerals of the dial, one-sided moving disk to record the dive time make the model watches Kobold Large Soarway Diver is very relevant to divers. Water-resistant is up to 500 meters.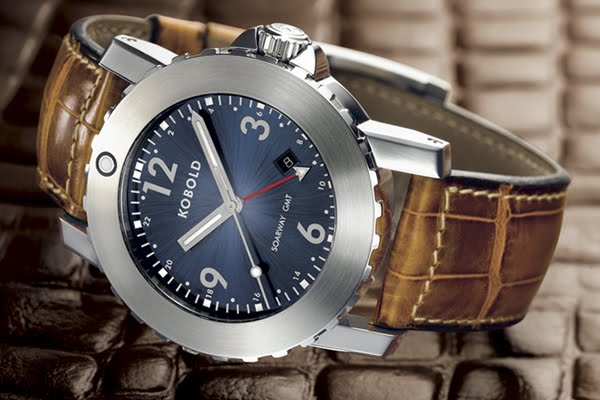 Kobold watch
-SEAL - in this collection of watches Kobold has a model equipped with a Swiss-made movement (model Seal Evolution) and models with American-made gauges (model Seal USA). Water-resistant to 1,000 meters. Seal Tactical model is produced in limited edition - 10 copies a year.
-ARCTIC DIVER - Kobold watch with a big case - 45 mm, thickness 16 mm. Water-resistant is up to 500 meters.
-POLAR SURVEYOR - collection of watches Kobold - chronograph functions GMT / UTC based on the second time zone display day / night and the date. Models of the collection Polar Surveyor is considered to be the most functional, designed for polar explorers. Caliber K.751 revised version of a Swiss ETA caliber 7750. Model watches of this collection - Polar Surveyor Chronograph has become one of the first models of watches that display the time, stopped time, GMT (Greenwich Mean Time), the date was equipped with a pointer to the "night or day." Wristwatch model became the Surveyor's flagship collection Kobold and became the first model issued in the case of gold.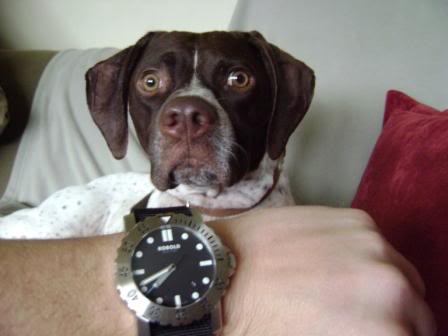 Kobold watch
-SOARWAY GMT - collection of watches Kobold demanded lovers of travel. 24-hour scale on the dial. Water-resistant is up to 500m.
-SHACKELTON - model of wristwatch Cobold Sir Ernest Shackelton is named after the famous polar explorer. K.2651 caliber self-winding movement.
-SPECIAL - in this collection of watches Kobold wrist watches designed for military pilots (Comanche Chronograph model and Comanche LTD) caliber Swiss Valjoux 7750 automatic winding. Model Ratrapante Stirling Moss is dedicated to the legendary Formula 1 racer.
Kobold watches straps, depending on the models are made of calfskin and alligator leather, bracelets are made of steel, stainless steel with PVD coating, titanium, gold of 18K. The company produces only 2,500 hours per year, providing a high quality of its products.
A collection of stamps Kobold watches is designed both for lovers of classic watches and extreme sports fans and travelers. Quality watches at affordable prices.