Kienzle — a German brand, which along with a wristwatch manufactures office equipment and accessories of the highest quality. Credo of the watch company Kienzle - the preservation of traditions, innovation and reliability.
Since 1954 the brand was awarded Kienzle IF Produkt Design Award for more than 100 kinds of products: watches, alarm clocks, digital printer, car clocks, telescope, computer Kienzle 6100, visual display units.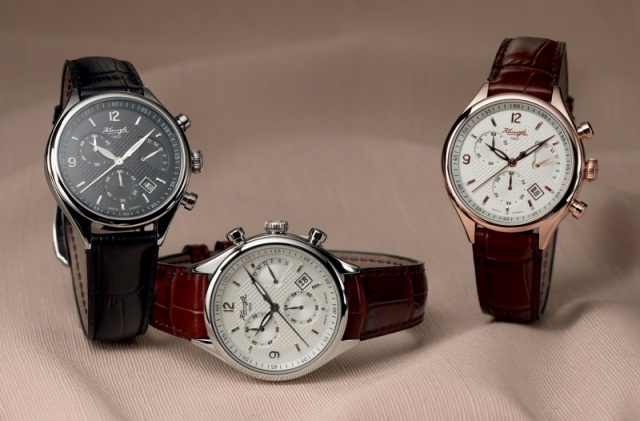 Kienzle watches
History of Kienzle watch brand has nearly 190 years. In 1822, Johannes Schlenker (Johannes Schenker) started production of watches and opened a store in Schwenningen (Shwenningen). Then connected to the business of his 3 sons.
By 1855 the company produced the watches Nathwatchman's which were sold around the world.
In 1883 Schenker becomes the partner of a family 24-year-old merchant, Jacob Kenzl (Jacob Kienzle) and renamed the company «Schlencer & Kienzle».
Since 1897 Jacob Kienzle is the sole owner of the company. By 1900, the watch company Schlenker & Kienzle, along with a wristwatch also produces kitchen and table clocks.
In 1902, was opened a branch office in Milan and a sales office in London, and a year later in Paris.
In 1904, were produced pocket watches Kienzle- rugged pocket watches, which were becoming popular and were produced in the decades that followed.
1908 — were produced the first wristwatches. Compiled catalog produced watches and watch movements which includes 560 different models.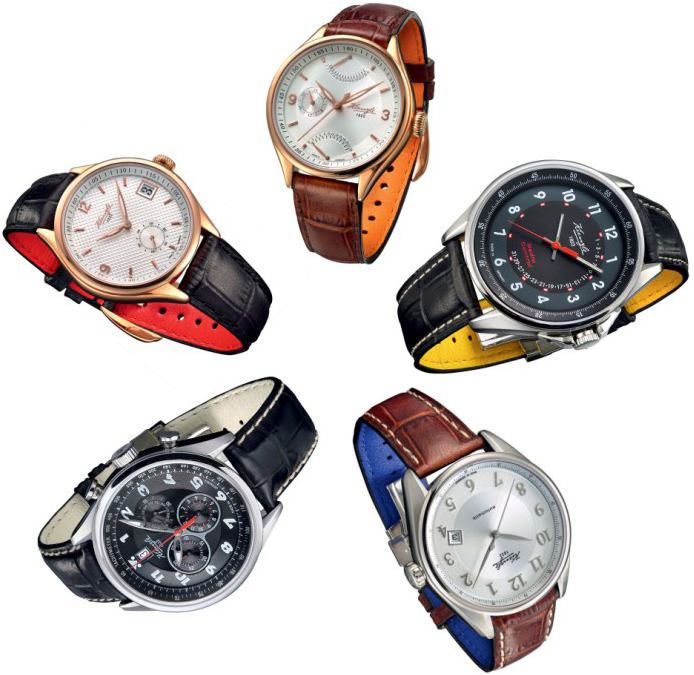 KIENZLE COLOR Collection
1910 -was produced the first model of car clock. The company's clients in the years to include such concerns as Rolls-Royce, Jaguar, Daimler, BMW, Volvo, Ford, Opel.
In 1928, the company is divided between two brothers, Herbert and Christian education with Kienzle Uhrenbau in Schwenningen and Kienzle Taxameter & Apparate AG in Villingene.
In 1964 he opened a branch in Zurich Kienzle Zurich AG, which displays the watch brand in the segment Kienzle watches in Haute Horlogerie. A year later, was opened sales offices in the United States and Austria.
In the 70s the company developed Kienzle office computers.
In 1989, the watch company is a Kiezle DUFA Group (Deutsche Uhrenfabrik GmbH), which is one of the leading manufactures time in Europe.
In 2007, the company is reorganized in Kienzle. At the head of the company was Stefan V.Kruze-Tamer (Stephan W. Kruse-Thamer)
In 2008, the watch brand Kienzle moved to Hamburg, Germany.
In 2009, Kienzle watch company became a partner of a German soccer club in Hamburger SV.
In 2010, there was integration of the German brand Lancher & Co with watch manufactory Kienzle.
Collections of Kienzle watches:
-EDITION JAKOB KIENZLE - this collection consists of 8 models of classic design with different functions. Diameter 42 mm. Swiss ETA caliber movement is complicated with modules of various complex functions: repeater, perpetual calendar, power reserve, moon phase indicator. The case of these wristwatches is stainless steel, there are models that can be selected in the case of 18K rose gold. Alligator strap.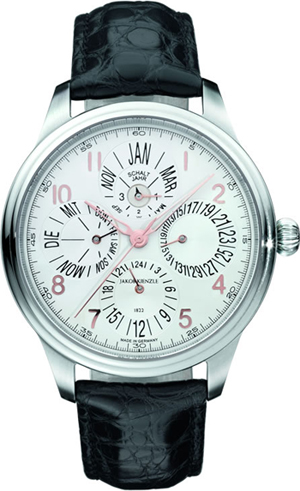 EDITION JAKOB KIENZLE "EWIGER KALENDER 24H" No.4
-KIENZLE 1822. The collection consists of such series: Mechanic, Sport, Luxury, Retro, Pocet Watches, Funk. Calibers Swiss mechanical or quartz. Stainless steel. In a series of Luxury you can choose a model with a gold-plated case encrusted with diamonds. Series Poket Watches (Taschenuhren) - a pocket watch. You can select a model skeleton.
-KIENZLE Klassik - this collection includes a series of wristwatches: Mechanic, Sport, Eleganz, Classisch, Satellit, Poket Watches.
-KIENZLE Clocks - a collection of clocks.
-KIENZLE wall clocks - wall clock collection.
-NOVELTIES - a collection of new products consists of such lines as: Kienzle Color, Luxury, Retro, K-Time.
Series Kienzle Luxury - a series of women's watches. Series K-Time-collection of kids watches with quartz movement - Kienzle Kid's Watch - a variety of hull form and in color.
Kienzle watch brand is a collection of men's, women's and children's watches. You can choose the classic models and the sport is also a wide range of handheld, desktop and wall clocks. Keeping the old traditions Kienzle watch company gives priority to innovation, high technical quality and reliability.
Everyone can purchase watches Kienzle in a specialized Kienzle watch boutiques worldwide.