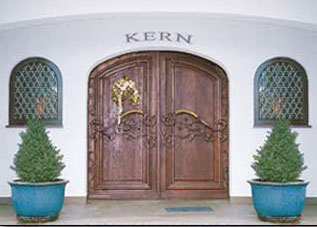 Kern watch brand was founded in October 1, 1974 by a master engraver and designer Ogustom Kern. Thanks to his skills and ideas, watch brand Kern quickly gained success. In order to save the future of the brand and to continue the family business in 2000, the company began working with Ogusta son and Stephen Kern, as responsible for sales and marketing.
Over the past 30 years, the company manufactures and sells worldwide jewelry and watches of the highest quality. The company uses in its time models precious stones and diamonds, as well as high-quality Swiss watchworks and the individual components of watches - all this in combination with modern design makes the products of the company's unique and incomparable.
During this time the company has introduced more than 1950 Kern jewelry and more than 650 different models of watches. In 1995, the brand began production of luxury watches that are made from stainless steel and inlaid with precious stones and diamonds. These models were the watches from the collection of Big Face. Cases of quartz models are made of 18 - carat white gold and are adorned with 100 black diamonds, 10 white diamonds, rubies, 7, 6 pink sapphires, amethysts 6, 4 blue and 1 gold sapphire. Black dial decorated with 80 diamonds at 0.64 carats. Strap with a buckle of 18 - karat gold is made of alligator leather.
Soon, the company introduced another collection of luxury watches - Elegance. The cases of these watches- skeletons are made of 18 - karat yellow gold and covered with 97 diamonds and sapphires on the front side and the inner ring case 44 mm has a brown inlaid and 4 black diamonds. The strap with a buckle of 18 - karat gold is made of alligator leather.
For women, the company released a limited collection of 20 copies. The case of these high-quality quartz wrist watches is made of 18 - karat gold and adorned with 202 diamonds 9.98 carats. The sapphire crystal covers the dial, decorated the 68 of diamonds. The hands and Roman numerals are made of silver. The strap is represented in the embodiment of pure silk with a clasp of 18 - karat gold and adorned with 26 diamonds.
Perfection, exclusivity and individuality is paramount in a wristwatch brand Kern and are basic values. Passion for the masters of the art of watchmaking and attention to detail makes it impossible to manufacture these luxury watches in automatic way - all models are made by hand.
Purchasing these luxury watches is available with the official representatives. Their fans will appreciate the luxury and exclusivity.